Maximum Temperature

Maximum Temperature
Minimum Temperature

Minimum Temperature
DFARS (Defense Acquisition Regulations Supplement)

DFARS

(Defense

Acquisition

Regulations

Supplement)
RoHS (Restriction of Hazardous Substances)

RoHS

(Restriction

of
Hazardous

Substances)
REACH (Registration, Evaluation, Authorization and Restriction of Chemicals)

REACH

(Registration,




Evaluation,

Authorization
and Restriction of

Chemicals)
High-Temperature

Round Grips
High-Temperature

Finger-Groove

Round Grips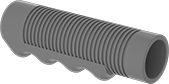 Made of silicone, these grips withstand temperatures up to 400° F. They are grooved to conform to your fingers for a comfortable, secure grasp.
For technical drawings and 3-D models, click on a part number.
Tweezer Tip Covers

Cap the tips of your tweezers to protect them from damage. These flexible silicone covers fit most styles of tweezers.
Material
Overall


Lg.

Pkg.




Qty.

Pkg.

Silicone Rubber
1

1/4

"
6
0000000
00000