About Paint and Protective Coatings
Flexible Rubber Coatings for Metal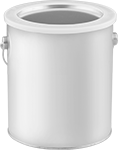 These flexible, slip-resistant silicone coatings resist chemicals, block UV light, and encapsulate lead paint. They withstand temperatures up to 320° F. Apply with a brush, roller, or sprayer.
Container


Size,




gal.

Composition
Touch

O'all,




hrs.

Approximate
Coverage @
Thickness

Max.




Temp.,




°F

Application


Temp.




Range,

°F

For
Use
On
Choose
a Color


(Appearance)

Each

Silicone

1
Solvent Based
60
24
100 sq. ft. @ 10 mil
320°
40° to 80°
Steel, Iron, Composites, Wood
000000
0000000
Moisture-Resistant

Reflective Silicone Coatings for Roofs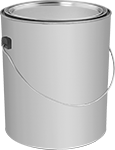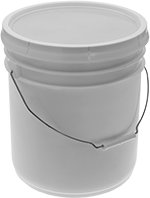 Made from silicone, these coatings are more durable than acrylic coatings for roofs and have better resistance to pooling water. They reflect up to 90% of the sun's rays to reduce cooling costs. Coatings are self-leveling and have excellent adhesion to most roof surfaces. They begin to protect against rain in as few as 60 minutes after application. Apply to a dry surface with a squeegee or brush.
Container


Size,

gal.

Composition
Surface
Reflectivity

Touch,




min.

Overall,




hrs.

Approx.




Coverage,

sq.

ft.

Application


Temp.




Range,

°F

For Use On
Color
Each
1
Solvent Based
90%
60
72
50
45° to 95°
Aluminum, Steel, Iron, Masonry, Concrete, Asphalt, Composites, Foam
White
0000000
0000000
5
Solvent Based
90%
60
72
250
45° to 95°
Aluminum, Steel, Iron, Masonry, Concrete, Asphalt, Composites, Foam
Gray
0000000
000000
5
Solvent Based
90%
60
72
250
45° to 95°
Aluminum, Steel, Iron, Masonry, Concrete, Asphalt, Composites, Foam
White
0000000
000000