Gloves with Silver Ion Finish
Prevent cross-contamination when handling objects that many people touch. These gloves have a silver ion finish that keeps bacteria, mold, mildew, fungi, and other microbes from growing. Made of nylon, they're washable and form-fitting, which means you can perform manual tasks without taking them off. They also have touch-screen compatible fingertips to work with smartphones and other devices.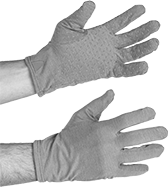 Silicone Grip
Silicone-grip gloves help prevent objects from slipping through your hands. The silicone is only on the palm, so the rest of the glove is more breathable. Unlike the silver ion finish on cut-resistant gloves, the finish on these gloves isn't permanent and will wear off after about 30 washes.
Gender
Size
Color
Pattern
Length
Cuff
Style
Pair

Black

Nylon Fabric

Men's
One Size
Black
Dot
11

1/2

"
Knit
00000000
00000
Women's
One Size
Black
Dot
10

1/2

"
Knit
00000000
0000

Gray

Nylon Fabric

Men's
One Size
Black
Dot
11

1/2

"
Knit
00000000
0000
Women's
One Size
Black
Dot
10

1/2

"
Knit
00000000
0000

Tan

Nylon Fabric

Men's
One Size
Black
Dot
11

1/2

"
Knit
00000000
0000
Women's
One Size
Black
Dot
10

1/2

"
Knit
00000000
0000

White

Nylon Fabric

Men's
One Size
Black
Dot
11

1/2

"
Knit
00000000
0000
Women's
One Size
Black
Dot
10

1/2

"
Knit
00000000
0000