Plastic Sink Drains with Collection Trap
Often used in laboratory applications, these drains have a removable collection trap that catches sediment and objects. Traps also block vapors from returning up through the drain.
Drains with slip-joint connection include an adapter tube with an unthreaded male outlet for use as an extension to another slip-joint connection. Trap withstands frost, boiling water, and detergents.
Drain with pipe connection has a semi-clear trap so you can see when it needs to be emptied. Trap withstands harsh chemicals.
Slip-Joint Outlet Connection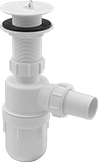 Slip-Joint
Outlet Connection
Cap.,




fl.

oz.

Dia.

Ht.

For Sink Drain
Opening

Dia.

Top


Dia.

Outlet
OD
Color
Trap
Color
Each

Drains with Adapter Tube and Plastic Stopper

8
3

3/8

"
10

5/8

"
1

7/8

"-3"
3

3/8

"
1

1/2

"
White
White
000000
0000000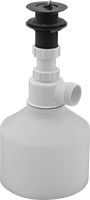 Pipe Outlet Connection
Cap.,




gal.

Dia.

Ht.

For Sink Drain
Opening

Dia.

Top


Dia.

Pipe
Size

Thread
Type
Gender
Color
Trap Color
Specifications
Met
Each

Drains with Plastic Stopper

1
7

1/2

"
11

3/4

"
1

7/8

"-3"
3

3/8

"
1

1/2

NPT

Male
Black
Semi-Clear
ASTM F1412
0000000
0000000
2
7

1/2

"
17"
1

7/8

"-3"
3

3/8

"
1

1/2

NPT

Male
Black
Semi-Clear
ASTM F1412
0000000
000000