Porous Stainless Steel Discs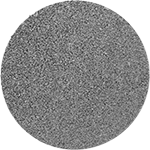 Also known as sintered filters and frits, these discs have tiny holes that trap very small particles. Discs are often used in laboratories and gas-bubbling applications (sparging). They're made of 316L stainless steel for excellent corrosion and abrasion resistance.
Select discs based on the size of the particles you wish to remove. For example, the particle size of talcum is about 10 microns. View more information on particle size in microns.