Circular Saw Blades for Wood


Cut wood, plywood, and particleboard. Choose blades with more teeth for cutting across the grain; choose blades with fewer teeth for cutting with the grain (ripping). Blades with a narrower width of cut make faster cuts with less material loss. For blades with a round/diamond arbor, detach the center piece to expose the diamond shape.
For technical drawings and 3-D models, click on a part number.
Arbor
Hole
Size
Arbor
Hole
Shape
Number
of
Teeth
Width
of
Cut

Max.




Speed,


rpm
Hook
Angle
Tooth
Body
Cut
Type
Each

5/8

"
Round/Diamond
24
0.065"
7,000
18°
Carbide
Steel
Across Grain, With Grain (Rip Cut)
00000000
000000

5/8

"
Round/Diamond
24
0.083"
7,300
20°
Carbide
Steel
Across Grain, With Grain (Rip Cut)
00000000
00000
Replacement Cords for Circular Saws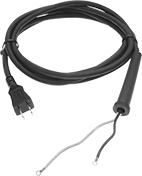 For Manufacturer Model

No.

Manufacturer
Model

No.

Each

Skil

SPT77WM-22/SPT78W-01
1619X08527
00000000
000000
Replacement Switches for Circular Saws