Conformable
Low-Friction

Tape Made with Teflon® PTFE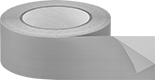 Also known as skived tape, this low-friction tape stretches to conform to irregular surfaces.
Ultra-Low-Friction

Tape Made with Teflon® PTFE

Our most slippery tape, the skived PTFE allows items to glide smoothly over it.
Acrylic adhesive offers a stronger bond than silicone adhesive.
Silicone adhesive withstands temperatures up to 500°F.