Freestanding Sinks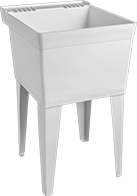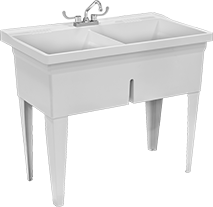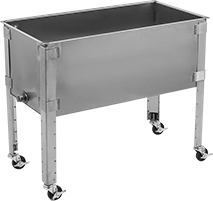 C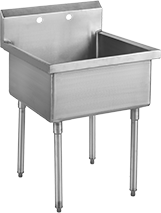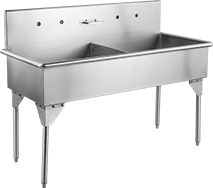 J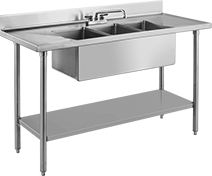 D
Sinks that meet NSF/ANSI standards have rounded corners that are easy to clean and resist buildup. They are typically used in food service applications.
Style C has a threaded side opening with removable plug for external draining.
Optional drain board for styles H&J is an angled shelf that mounts to either side of the sink.
Style

No.


of
Bowls

Wd.

Dp.

Ht.

Wd.

Dp.

Ht.

Drain
Opening


Dia.

No.


of

Dia.

Ctr.-to-Ctr.

For
Use
Outdoors
Features
Includes
Each

Sinks

White Plastic with Steel Legs

A
1
20"
23

7/8

"
33

3/4

"
19

1/2

"
19

5/8

"
13"
1

3/4

"
2
1"
4"
No
Leveling Feet
Drain with Strainer
000000
000000
B
2
40"
24"
33

3/4

"
18

7/8

"
18

5/8

"
12

1/2

"
1

3/4

"
2
1

1/4

"
4", 8"
No
Leveling Feet
Drain with Strainer
0000000
000000

304 Stainless Steel with Stainless Steel Legs

C
1
36"
18"
32"
35

3/4

"
17

3/4

"
14"
1

1/4

"
0
__
__
Yes
Removable Legs
Removable Plug for Side Opening, Tailpiece
0000000
00000000
H
1
27"
27"
48"
24"
24"
12"
3

1/2

"
2
1

1/4

"
8"
No
Seamless Bowl
__
0000000
00000000
H
1
39"
27"
48"
36"
24"
12"
3

1/2

"
2
1

1/4

"
8"
No
Seamless Bowl
__
0000000
00000000
J
2
51"
27"
48"
24"
24"
12"
3

1/2

"
4
1

1/4

"
8"
No
Seamless Bowl
__
0000000
00000000
J
2
63"
27"
48"
30"
24"
12"
3

1/2

"
4
1

1/4

"
8"
No
Seamless Bowl
__
0000000
00000000

304 Stainless Steel with Stainless Steel

Legs—

Meets

NSF/ANSI 2

G
1
27"
27

1/2

"
44"
24"
24"
14"
3

1/2

"
2
1

1/2

"
8"
No
Seamless Bowl
__
0000000
00000000
G
1
39"
27

1/2

"
44"
36"
24"
14"
3

1/2

"
2
1

1/2

"
8"
No
Seamless Bowl
__
0000000
00000000
| | | | |
| --- | --- | --- | --- |
| Optional Drain Board for Style H and J | 0000000 | Each | 0000000 |
Style

No.


of
Bowls

Wd.

Dp.

Ht.

Wd.

Dp.

Ht.

Drain
Opening


Dia.

Spout
Type
Pipe
Size

Thread
Type
Flow


Rate,


gpm
For
Use
Outdoors
Features
Includes
Each

Sinks with

Chrome-Plated

Brass Faucet

White Plastic with Steel Legs

A
1
20"
23

7/8

"
40

3/4

"
19

1/2

"
19

5/8

"
13"
1

3/4

"
Swivel

1/2

NPT

2.1
No
Leveling Feet
Drain with Strainer
000000
0000000
B
2
40"
24"
40

3/4

"
18

7/8

"
18

5/8

"
12

1/2

"
1

3/4

"
Swivel

1/2

NPT

2.1
No
Leveling Feet
Drain with Strainer
0000000
000000

304 Stainless Steel with Stainless Steel

Legs—

Meets

NSF/ANSI 2

D
3
58"
23"
38

7/8

"
11"
15"
11"
3

1/2

"
Swivel

1/2

NPS
2.2
Yes
__
Drain with Strainer
0000000
00000000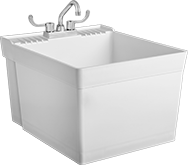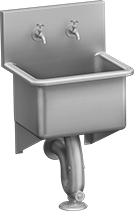 F
Style

Wd.

Dp.

Ht.

Wd.

Dp.

Ht.

Drain
Opening


Dia.

No.


of

Dia.

Ctr.-to-Ctr.

Mounting
Fasteners
Included
For
Use
Outdoors
Includes
Each

Sinks

White Plastic

B
20"
23

7/8

"
14

3/8

"
19

1/2

"
19

5/8

"
13"
1

3/4

"
2
1"
4"
Yes
No
Drain with Strainer, One Mounting Bracket
000000
000000
Style

Wd.

Dp.

Ht.

Wd.

Dp.

Ht.

Drain
Opening


Dia.

Faucet
Material
Spout
Type
Pipe
Size

Thread
Type
Flow


Rate,


gpm
Mounting
Fasteners
Included
For
Use
Outdoors
Includes
Each

Sinks with

Chrome-Plated

Faucet

White Plastic

B
20"
23

7/8

"
21

3/8

"
19

1/2

"
19

5/8

"
13"
1

3/4

"
Brass
Swivel

1/2

NPT

2.1
Yes
No
Drain with Strainer, One Mounting Bracket
000000
0000000

304 Stainless Steel

F
21"
17

1/2

"
39

3/4

"
18"
14"
12"
3

1/2

"
Brass
Fixed

1/2

NPT

2.5
No
No
Drain with Strainer, P-Trap with Cleanout Plug, Three Mounting Brackets
000000
00000000
F
25"
19

1/2

"
39

3/4

"
22"
16"
12"
3

1/2

"
Brass
Fixed

1/2

NPT

2.5
No
No
Drain with Strainer, P-Trap with Cleanout Plug, Three Mounting Brackets
000000
00000000