Flat and
L-Shaped

Bolt-Together

Framing and Fittings
Rails are drilled with consistently spaced holes for multiple mounting options that do not require machining. Use this bolt-together framing to build guards, tables, and racks.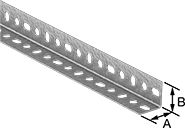 Galvanized Steel
L-Shaped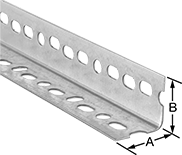 Zinc-Plated
Steel and 304 Stainless Steel
L-Shaped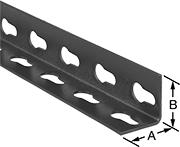 Powder-Coated
Steel
L-Shaped
Zinc-plated steel rails are more corrosion resistant in wet environments than powder-coated steel.
Galvanized steel rails have better corrosion resistance in wet environments than zinc-plated steel and can be used outdoors.
(A)

(B)

Thick.

Material
Color

1 ft.

3 ft.

4 ft.

5 ft.

6 ft.

8 ft.

1

1/4

"
1

1/4

"
0.0469"
Galvanized Steel
__
0000000
1

1/4

"
1

1/4

"
0.07"
Powder-Coated Steel
Blue
0000000
1

1/2

"
1

1/2

"
0.074"
Zinc-Plated Steel
__
0000000
1

1/2

"
1

1/2

"
0.0781"
Galvanized Steel
__
0000000
1

1/2

"
2

1/4

"
0.0781"
Galvanized Steel
__
0000000
1

7/8

"
1

7/8

"
0.078"
Powder-Coated Steel
Blue
0000000
| | | | |
| --- | --- | --- | --- |
| Green Aerosol Touch-Up Paint for Powder-Coated Steel Rails (12 oz.) | 00000000 | Each | 000000 |