Sludge Samplers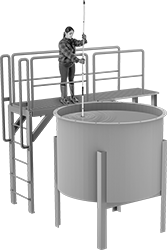 Valve
Closed
with Sample

Valve Open

Collect and measure buildup from the bottom of oil tanks, septic tanks, wastewater lagoons, and other areas. Unlike other samplers that only hold liquids, these samplers can draw in solids, too. They help you monitor sludge, which is important for maintaining healthy heating systems and meeting environmental regulations for sewage. Not for use with ethanol or ethanol-blended fuel.
Made of a strong plastic, these samplers are rigid enough to push through tough layers of sludge to collect a complete sample. A valve lets in liquids and solids, then blocks them from going out. Samplers are clear and marked with 1-ft. graduations, so you can view and measure what's inside. Press down on the valve pin to empty.
These samplers consist of three hollow 5-ft. tubes. Screw together as many as you need to match the depth of your tank. Since they're detachable, they're easy to transport. Add extensions (sold separately) to make samplers longer.