Coaxial Connectors
Transmit audio, video, and data through coaxial cable. Choose a connector that matches the RG number of your coaxial cable.
SMA connectors are often used for data transmission.
Crimp-on connectors attach with the included ferrule and create a hex-shaped connection.
Crimpers (not included) are required to attach crimp-on and compression connectors to wire.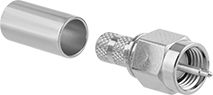 For Coaxial
Cable Type

Resistance,


ohms
Housing Material
Includes
Each
RG-58
50
Nickel-Plated Copper
Ferrule
0000000
00000
Coaxial Adapters
Join coaxial cords even if they are a different style or the same gender.
SMA adapters are often used for data transmission.