Compact Programmable Logic Controllers
Smaller than other PLCs, these controllers save space in your control cabinet. They combine the functionality of a relay, timer relay, and switch in one unit, so you can program simple automation jobs. All have two types of delayed start (delay-on-make) and two types of delayed switch-off (delay-on-break) timing functions. They have passed strict U.S. and Canadian safety standards, and they're IP20, which prevents fingers and other objects from making contact with live circuits. Mount them to a 35-mm DIN rail.
Controllers with a display make it easy to monitor or modify your system directly on the unit. Controllers without a display eliminate the risk of accidental adjustments while toggling through information or tampering by unauthorized users.
Program these controllers by connecting them to a computer and installing the required software (sold separately). After the initial programming, these controllers can be updated remotely by a human-machine interface (HMI) or computer.
Add expansion modules to increase the number of inputs and outputs. You can connect up to 11 modules to a controller—for a maximum of 188 inputs and outputs. Choose any modules that support the operating voltage of your controller.
For technical drawings and 3-D models, click on a part number.
IO Link

Controllers and Modules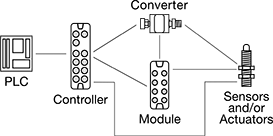 Components Sold Separately
Create a system of sensors and actuators that you can remotely update, view measurements from, and receive error messages in real time. IO Link systems minimize downtime by locating issues such as cut cables or dirty sensors quickly. They send only digital signals to your PLC, regardless of whether your sensors and actuators send digital or analog signals. Because these systems send digital signals, they're more reliable and less prone to data error and signal loss than analog signals. It also means you don't have to use expensive shielded cables since they resist EMI.
When retrofitting an existing system, you'll need to make sure your PLC can incorporate IO Link. Check with your PLC manufacturer—most have hardware that allows you to upgrade your PLC to run IO Link.
Controllers communicate between your sensors and actuators and your PLC. They are required. Setting memory automatically stores your settings and restores them once your device is back online. This eliminates needing to program a device again when you replace or fix it. Surface mount controllers let you mount controllers on equipment such as tanks and conveyors. By mounting them on your equipment, you save space in your control cabinet. They use M12 connectors. DIN-rail mount controllers are designed to mount inside your control cabinet, so you can access all your process control devices in a central location. They include RJ45 Ethernet ports to support JSON and MQTT IoT (Internet of Things) protocols, allowing you to link the system directly to your web server to upload information to the Cloud. Connect these ports with RJ45 cords.
Protective caps prevent dust and debris from harming M12 connections when they're not in use. They also help maintain IP ratings by covering unused ports. Stainless steel protective caps have a neoprene gasket, which helps maintain IP69K ratings.
IP rated components block out dust and withstand some water, so they do not require an enclosure. Ports that are unused must be capped to maintain their rating. IP66 rated components withstand washdowns. IP67 rated components can be temporarily submerged in water. IP69K rated components hold up to high-pressure and high-temperature washdowns.
Note: Sockets may have extra holes on their face that are not used.
For technical drawings and 3-D models, click on a part number.

Surface Mount Controller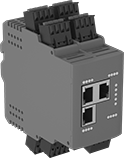 DIN-Rail
Mount Controller
Communication
Protocol

No.

of
Device
Ports
Total

No.


of RJ45
Connections
Total

No.


of M12
Connections
Type
Signal
Voltage

No.


of
Type
Signal
Voltage
Current

No.


of
Operating
Voltage
Specifications
Met
Each

Surface Mount

IO Link, Ethernet/IP
4
__
7
Digital
PNP
0-30V DC
8
Digital
PNP
30V DC
0.3A
4
20-30V DC
UL Listed, C-UL Listed, CE Marked
0000000
0000000
IO Link, Ethernet/IP
8
__
11
Digital
PNP
0-30V DC
16
Digital
PNP
30V DC
0.3A
8
20-30V DC
UL Listed, C-UL Listed, CE Marked
0000000
000000
IO Link, Profinet
4
__
7
Digital
PNP
0-30V DC
8
Digital
PNP
30V DC
0.3A
4
20-30V DC
UL Listed, C-UL Listed, CE Marked
0000000
000000
IO Link, Profinet
8
__
11
Digital
PNP
0-30V DC
16
Digital
PNP
30V DC
0.3A
8
20-30V DC
UL Listed, C-UL Listed, CE Marked
0000000
000000
IO Link, Ethernet/IP
4
__
7
Digital
PNP
0-30V DC
8
Digital
PNP
30V DC
0.3A
4
20-30V DC
UL Listed, C-UL Listed, CE Marked
0000000
000000
IO Link, Ethernet/IP
8
__
11
Digital
PNP
0-30V DC
16
Digital
PNP
30V DC
0.3A
8
20-30V DC
UL Listed, C-UL Listed, CE Marked
0000000
000000
IO Link, Profinet
4
__
7
Digital
PNP
0-30V DC
8
Digital
PNP
30V DC
0.3A
4
20-30V DC
UL Listed, C-UL Listed, CE Marked
0000000
000000
IO Link, Profinet
8
__
11
Digital
PNP
0-30V DC
16
Digital
PNP
30V DC
0.3A
8
20-30V DC
UL Listed, C-UL Listed, CE Marked
0000000
000000

IP20

IO Link, Ethernet/IP
8
3
__
Digital
PNP
0-30V DC
8
Digital
PNP
30V DC
0.3A
8
20-30V DC
UL Listed, C-UL Listed, CE Marked
0000000
000000
IO Link, Profinet
8
3
__
Digital
PNP
0-30V DC
8
Digital
PNP
30V DC
0.3A
8
20-30V DC
UL Listed, C-UL Listed, CE Marked
0000000
000000
Caps for Controllers and Modules with M12 Connections


Size

Location
Material
Temperature


Range,

°F

Includes
Each

For Plugs

M12

External
Anodized Aluminum
0° to 220°
Lanyard
0000000
000000
M12

External
Stainless Steel
0° to 220°
Lanyard
0000000
00000

For Sockets

M12

Internal
Anodized Aluminum
0° to 220°
__
0000000
00000
M12

Internal
Stainless Steel
0° to 220°
Lanyard
0000000
00000