Adhesive-Back

Frame-Mount

Weatherstripping

Shown Installed

Bulb Seal
No need to drill mounting holes, this weatherstripping has a peel-and-stick adhesive backing. Mount it to the sides and top of a door or window frame to seal gaps. Weatherstripping with a bulb seal meets UL 1784 for use as a smoke and draft control gasket.
Bulb seals compress to form a tight seal and can compensate for uneven surfaces. Silicone resists heat and UV.
High-Temperature

Fire-Rated

Hollow Rubber

Surface-Mount

Seals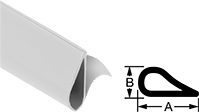 Tested in accordance with NFPA standards 80, 105, and 252, these silicone rubber seals are for use on fire-rated doors. They meet UL 10B, UL 10C, and UL 1784. Hollow construction provides compressibility. Attach these seals directly to a door's surface to shield against dust, noise, and vibration.
For technical drawings and 3-D models, click on a part number.