Gas Leak

Detectors for

Hard-to-Reach

Areas

Identify a variety of small leaks quickly and access hard-to-reach areas with the flexible probe. An audible signal increases in intensity the closer you get to the leak. Intrinsically safe for Class I, Divisions I and 2, Groups A, B, C, and D hazardous locations.
Detection Trigger

Point,

ppm

Methane


(Natural Gas)

Propane
Hydrogen
Butane
Acetone
Methanol
Ammonia
Gasoline
Chlorine
Acetylene
Ethane
Ethylene
Hydrogen
Sulfide
Batteries
Included
Container
Type
Each
5
5
5
5
50
50
20
1
1
50
5
500
5
Yes
Plastic Carrying Case
0000000
0000000
Refrigerant Leak Detectors for
Hard-to-Reach

Areas
Detect halogenated refrigerants such as HFCs, CFCs, and HCFCs. Access hard-to-reach areas with the flexible probe. This unit can detect leaks as small as 0.1 oz. per year in air conditioning and refrigeration systems. An audible signal increases in intensity as you approach the leak.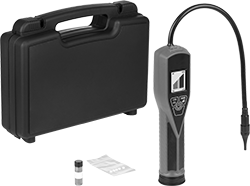 Gas Type Detected
Probe


Lg.

Batteries
Included
Container Type
Specifications Met
Each
Hydrofluorocarbons (HFCs), Chlorofluorocarbons (CFCs), Hydrochlorofluorocarbons (HCFCs), R-22 (Freon) Refrigerant, R-134A Refrigerant, R-410A Refrigerant
14"
Yes
Plastic Carrying Case
UL Recognized Component, CE Marked, SAE J2791, SAE J2913
0000000
0000000
Ultrasonic Gas Leak Detectors
This detector converts ultrasonic waves to an audible sound so you can find leaks. Unlike typical leak detectors, this unit doesn't rely only on the presence of a gas to work, making it suitable for a wider range of applications. In addition to gas leaks, it identifies ultrasonic sound caused by failing solenoids, valves, and bearings.
For systems under 10 psi, use the optional ultrasonic sound generator.
Combustion Efficiency Meters
Also known as a combustion analyzer, this meter measures boiler and furnace combustion efficiency. It automatically calibrates to normal atmospheric oxygen.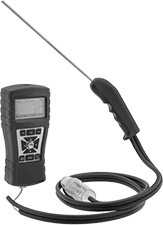 For
Use
On
Ambient


Temp.

Flue
Gas


Temp.

Flue
Gas
Oxygen
Carbon


Monoxide,


ppm
Combustion
Efficiency
Carbon
Dioxide
Air Free
Carbon


Monoxide,

ppm
Excess
Air
Accuracy
Batteries
Included
Each
Kerosene, Natural Gas, Oil, Propane
25° to 110° F
-4° to 1200° F
0-20.9%
0-2,000
0.1%-100%
0-15%
0-9,999
0-250%
±0.3% of Oxygen Content
Yes
0000000
0000000
Portable
Multi-Gas

Detectors with Probe

Use the probe to test the air in a hazardous area before entering. Great for confined spaces. This detector alerts you with an audible alarm, warning light, and vibrating alarm in the presence of combustible and toxic gases. You can adjust the alarm trigger points to suit your environment. There is also a motion sensor that sounds an alarm if the user becomes disabled.
Note: LEL is lower explosive limit.
Detects


(Measuring Range)

Volume
Temperature


Range,




°F

Batteries
Included
Includes
Tube


Lg.,




ft.

Environmental
Rating
Each
Acetone, Butane, Hydrogen, Methane, Pentane, Propane, Toluene (0-100% LEL); Oxygen (0-30% Vol.); Carbon Monoxide (0-1,999 ppm); Hydrogen Sulfide (0-200 ppm)
95 dB @ 1 ft.
-40° to 140°
Yes
Sampling Probe, Tubing Assembly, Rechargeable Lithium Ion Battery for Probe
25
NEC Class I Divisions 1, 2 Groups A, B, C, D
NEC Class II Divisions 1, 2 Groups E, F, G
NEC Class III Divisions 1, 2
NEC Zone 0 Groups IIC, IIB, IIA
IP68

00000000
000000000
Noise-Filtering

Stethoscopes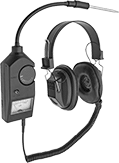 Shown with Extension Probe Attached
Detect mechanical problems and leaks—headphones reduce background noise so you can isolate individual sounds. Use the 9" flexible probe on its own for general detection. Attach the 5" probe extension to detect faint sounds and vibration and access hard-to-reach areas.
Vibration Meters with Stethoscopes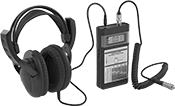 In addition to measuring vibration, you can listen to and record machine performance. The magnetic base allows you to mount the probe on a machine for constant readings.
Measures
Vibration


Range,


cpm
Acceleration


Range, g

Frequency


Range,


Hz
Velocity


Range,




in./sec.

Accuracy

Temp.




Range,




°F

Probe


Lg.

Batteries
Included
Container
Type
Each
Vibration, Acceleration, Frequency, Velocity
600-600,000
0.01-19.99
10-10,000
0.01-19.99
±2%
-10° to 120°
4

1/2

"
Yes
Case
000000
000000000