Solar Panel Mounting Brackets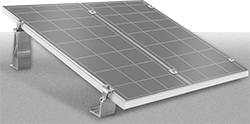 Front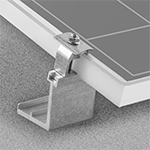 Short Bracket and Clamp Shown with End Spacer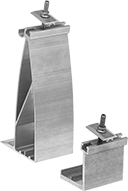 Back
For use on hard, flat, nonflammable surfaces, such as concrete, these brackets orient solar panels to best capture the sun's rays. They are UL tested for compatibility with the models listed and fit panels that are 1-1/4", 1-3/8", and 1-9/16". Each pair of brackets includes one tall bracket, one short bracket, and two clamps. To install, first mount the brackets using anchors and construction adhesive (sold separately). Then, position the solar panels on the racks and tighten the clamps to secure. A single panel requires two pairs of brackets and four end spacers (sold separately). For each additional panel, use an additional pair of brackets.
End spacers prevent clamps from becoming lopsided when installed at the beginning or end of a row. Choose end spacers that match your solar panel's thickness.
Inverter clips allow you to mount DC to AC transformers to the back of the solar panel.
For technical drawings and 3-D models, click on a part number.
For Solar
Panel


Thick.

For

Mfr.


Model


No.

Includes

Ht.

Wd.

Dp.

Ht.

Wd.

Dp.

Material

Dia.

No.


of
Mounting
Fasteners
Included
Pair
1

1/4

", 1

3/8

", 1

9/16

"
Boviet Solar BVM6610P-XXX
Hanwha Q Cells Q.PRO-G4 XXX
Hyundai HiS-SXXXTI
Jinko Solar JKMXXXP-XXX
LG Electronics LGXXXS1C-B3
RECOM RCM-XXX-6-MB
1 Short Mounting Bracket, 1 Tall Mounting Bracket, 2 Clamps
3

1/2

"
3

1/2

"
3

1/4

"
10"
3

1/2

"
5"
Aluminum

3/8

"
2
No
0000000
000000
Sealing Corner Brackets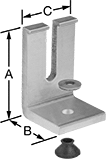 Aluminum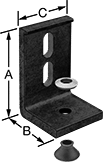 Black Anodized Aluminum
A rubber seal protects against moisture around the installation hole. These brackets are good for securing solar panels and other objects to roofs.
For technical drawings and 3-D models, click on a part number.