About Relative Visibility of Signal Lights
Solar-Powered

Motion-Sensing

Security Lights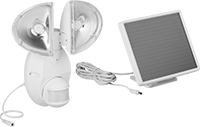 A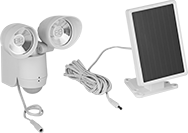 B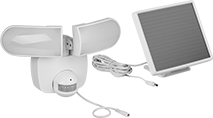 C

D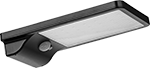 E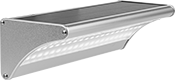 F
Powered by the sun, these security lights function in areas that don't have access to electricity. They're often used to shine light on parking lots, landscaping, signs, entryways, and other outdoor spaces. They turn on when they detect motion. These lights use a built-in LED bulb that lasts longer, is more efficient, and generates less heat than alternatives.
The solar panel is separate from style A, B, and C lights, so you can place the panel in direct sunlight while mounting the light in a shaded area. Even though they're detached from the panel, these lights have an integrated sensor that prevents them from turning on during the day.
The solar panel is built into the top of style D, E, and F lights, so there's no need to run wire between the two. These lights must be mounted in the sun so they can charge during the day.
Style E and F lights are protected from low-pressure jets of liquid such as water from a garden hose.
Solar-Rechargeable

Portable Lights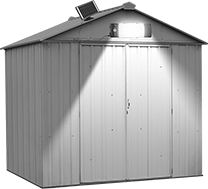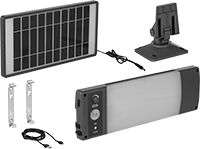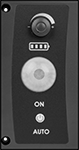 Button Switch
Use sun energy to bring light to remote areas and storage spaces without electrical wiring. These lights come with a solar panel to recharge their battery. Simply connect the lights to the panel and place the panel in full sunlight to charge. To power the battery faster, you can also plug these lights into a charger using the included USB cable. A USB output port allows you to power other smart devices and accessories with these lights, as well.
All lights have built-in LEDs that last longer, are more efficient, and generate less heat than other light technologies. They cast a neutral light appearance that's often found in workspaces. An impact-resistant plastic lens protects the LEDs. You can dim these lights to conserve battery life. To use them as a security light in unsupervised areas at night, set them to auto mode—they'll turn on automatically in the dark or when they detect motion.
Use the included mounting holes and brackets to secure these lights permanently to the wall, or hang them temporarily with the included fold-out D-rings. The solar panel also has a mounting bracket to secure the panel to horizontal and vertical surfaces. It's adjustable, so you can rotate and tilt the panel to achieve the best angle for maximum sunlight exposure.
These lights cannot be sold to Canada due to energy efficiency regulations.
Length
Width
Depth
Length
Width
Brightness


(Battery Life)

Light
Appearance

Wattage, W

Material
Color
Batteries
Included
Mounting
Hardware
Included
Includes
Features
Cannot
Be
Sold To
Each

Plastic Lens

19"
6"
1

5/8

"
14"
8

1/4

"
200 lumens (15 hrs.)
1,200 lumens (7.5 hrs.)
2,400 lumens (1.3 hrs.)
Neutral (4000K)
15
75
180
Plastic
Gray
Yes
Yes
6 ft. Long USB Cable
USB Outlet
Canada
0000000
0000000
Solar-Powered

Flashing Lights
Place these lights in full sun and their batteries charge during daylight hours. Lights automatically switch on at dusk and off at dawn. They have an LED bulb for years of maintenance-free operation.
Portable lights meet IP67 and have a magnetic base for quick positioning. They can be switched on or off with the press of a button.
Submersible light meets IP68.
For technical drawings and 3-D models, click on a part number.

Surface Mount
Ht.

Dia.

Environment
Features
Includes
Fasteners
Included

No.

of
Mounting
Holes
Mounting
Hole


Dia.

Material
Environmental
Rating
Specifications
Met
Light
Color
Each
Each

LED

7

3/8

"
5

3/8

"
Submersible
Bird-Deterrent Spike, Photocell
Sealed-In Replaceable Battery
No
4

1/4

"
Plastic
IP68

CE Marked

Amber
000000
0000000
000000
000000
Solar Flagpole Lights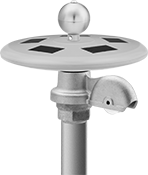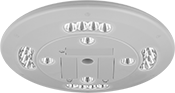 Illuminate outdoor flags without connecting to an electric power source. These lights have a built-in solar panel that gathers energy from the sun throughout the day to power them at night. Because you don't need to wire these lights to a standard energy source, you can use them with flagpoles located in the most remote areas of your property. These lights mount on top of your flagpole between the pulley and the ball ornament to illuminate your flag from above. A sensor turns them on automatically at night—no need to remember to switch them on manually.
For Maximum
Flagpole


Height,

ft.

Height
ID
OD
Voltage
Wattage

Brightness,


lumens
Battery


Capacity,




mA-hrs.

Features
Light
Color
Each

Screw Mount

LED

25
1

1/4

"

1/2

"
10

1/8

"
5.5V DC
1.65W
80
9,000
Automatic Illumination at Night
White
00000000
0000000