About Actuated
On/Off

Valves
Solenoid
On/Off

Valves for Drinking Water
Safe for automated on/off control in drinking-water systems, these valves meet NSF/ANSI Standard 61. They operate on electricity to automatically start and stop flow.
All valves are normally closed unless actuated. They require a minimum pressure drop between the inlet and the outlet for operation; the upstream pressure must be greater than the downstream pressure. The actuator is directly mounted to the valve body to minimize movement and reduce wear.
303 stainless steel valves are more corrosion resistant than brass valves.
For valves rated NEMA 4 and IP65, the ratings apply only to the enclosure, which resists dust, washdowns, and outdoor use. NSF/ANSI Standard 169 valves are rated for use with food equipment.
Flow coefficient (Cv) is the amount of water (in gallons per minute) at 60° F that will flow through a fully open valve with a difference of 1 psi between the inlet and the outlet.
Brass Body with DIN Connection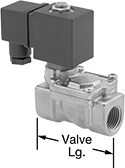 For Use

With:

Drinking Water
Seal

Material:

EPDM Rubber
Specifications

Met:

CE

Marked,

NSF/ANSI 61
Replacement
Solenoid Coils


Repair Kits for


Flow-Control


Valves

Pipe
Size

Gender
Thread
Type
Flow
Coefficient


(Cv)

Max.


Pressure
Pressure
Drop

Temp.




Range,




°F

Valve


Lg.

O'all




Ht.

Environmental
Rating
Each
Each
Each

3/8

Female
NPT

4
230 psi @ 280° F
Pressure Drop Assisted
15° to 280°
2

9/16

"
3

13/16

"
IP65, NEMA 4
0000000
0000000
000000
00
0000000
000000

1/2

Female
NPT

5
230 psi @ 280° F
Pressure Drop Assisted
15° to 280°
2

9/16

"
3

13/16

"
IP65, NEMA 4
0000000
000000
000000
00
0000000
00000

3/4

Female
NPT

10
230 psi @ 280° F
Pressure Drop Assisted
15° to 280°
4

1/16

"
4

1/8

"
IP65, NEMA 4
0000000
000000
000000
00
0000000
00000
1

Female
NPT

13
230 psi @ 280° F
Pressure Drop Assisted
15° to 280°
4

1/16

"
4

3/8

"
IP65, NEMA 4
0000000
000000
000000
00
0000000
00000

3/4

Female
NPT

10
230 psi @ 280° F
Pressure Drop Assisted
15° to 280°
4

1/16

"
4

1/8

"
IP65, NEMA 4
0000000
000000
0000000
000000
0000000
00000
1

Female
NPT

13
230 psi @ 280° F
Pressure Drop Assisted
15° to 280°
4

1/16

"
4

3/8

"
IP65, NEMA 4
0000000
000000
0000000
00000
0000000
00000
303 Stainless Steel Body with Quick-Disconnect Terminals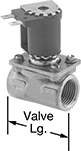 For Use

With:

Drinking Water
Seal

Material:

EPDM Rubber
Specifications

Met:

NSF/ANSI

169,

NSF/ANSI 61
Pipe
Size

Gender
Thread
Type
Flow
Coefficient


(Cv)

Max.


Pressure
Pressure
Drop

Temp.




Range,




°F

Valve


Lg.

O'all




Ht.

Quick-Disconnect


Tab

Wd.

Each

3/8

Female
NPT

2
125 psi @ 180° F
Pressure Drop Assisted
35° to 180°
1

7/8

"
3"

1/4

"
0000000
0000000

1/2

Female
NPT

2
125 psi @ 180° F
Pressure Drop Assisted
35° to 180°
1

7/8

"
3"

1/4

"
0000000
000000
Black PPE Plastic Body with DIN Connection

For Use

With:

Drinking Water
Seal

Material:

EPDM Rubber
Specifications

Met:

CSA

Certified,

NSF/ANSI

169,

NSF/ANSI 61
Pipe
Size

Gender
Thread
Type
Flow
Coefficient


(Cv)

Max.


Pressure
Pressure
Drop

Temp.




Range,




°F

Valve


Lg.

O'all




Ht.

Each

1/2

Female
NPT

5
150 psi @ 180° F
Pressure Drop Assisted
35° to 180°
4

5/8

"
3

5/16

"
0000000
0000000

3/4

Female
NPT

7
150 psi @ 180° F
Pressure Drop Assisted
35° to 180°
4

13/16

"
3

5/8

"
0000000
000000
1

Female
NPT

13
150 psi @ 125° F
Pressure Drop Assisted
35° to 180°
6

1/8

"
3

11/16

"
0000000
000000

1/2

Female
NPT

5
150 psi @ 180° F
Pressure Drop Assisted
35° to 180°
4

5/8

"
3

5/16

"
0000000
000000

3/4

Female
NPT

7
150 psi @ 180° F
Pressure Drop Assisted
35° to 180°
4

13/16

"
3

5/8

"
0000000
000000
1

Female
NPT

13
150 psi @ 125° F
Pressure Drop Assisted
35° to 180°
6

1/8

"
3

11/16

"
0000000
000000