REACH (Registration, Evaluation, Authorization and Restriction of Chemicals)

REACH

(Registration,




Evaluation,

Authorization
and Restriction of

Chemicals)
RoHS (Restriction of Hazardous Substances)

RoHS

(Restriction

of
Hazardous

Substances)
DFARS (Defense Acquisition Regulations Supplement)

DFARS

(Defense

Acquisition

Regulations

Supplement)
Warning: Products have one, but not necessarily all, of the selected characteristics.
Container Size

Container Size
Machine Tool Coolant
Anti-Foaming

Liquids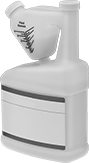 Add these liquids to your machine-tool reservoir to reduce foam in coolant systems and keep them running smoothly.
Type

Size,




fl.

oz.

Composition
Harshness
For
Use On
For
Removing

1-3

4-Up

Liquid

Jug
64
Solvent Based
Mild
Coolant
Foam
000000
000000
000000
Machine Tool Coolant Biocides
Inhibit the growth of bacteria and fungi in your machine-tool reservoir to improve coolant effectiveness and eliminate the cause of foul odors. Add this low-foaming formula to coolant for use during operation or when the machine is shut down for complete maintenance. It cannot be sold outside the United States due to product registration requirements.
Type

Size,




fl.

oz.

Composition
Harshness
For
Use On
For Removing
Features
Cannot Be Sold To
Each

Liquid Concentrate

Bottle
16
Solvent Based
Harsh
Coolant
Bacteria, Odors
Low Foaming
Outside United States
0000000
000000