Container Type

Container Type
Warning: Products have one, but not necessarily all, of the selected characteristics.
Environmental Rating

Environmental Rating
DFARS (Defense Acquisition Regulations Supplement)

DFARS

(Defense

Acquisition
Regulations

Supplement)
REACH (Registration, Evaluation, Authorization and Restriction of Chemicals)

REACH

(Registration,




Evaluation,

Authorization
and Restriction of

Chemicals)
Disinfectant Foggers

Disinfect and deodorize enclosed spaces without coming into contact with potentially harmful chemicals. These broad-spectrum disinfectants kill bacteria and viruses while eliminating unpleasant odors, and the microorganisms that cause them. They're EPA registered for safety and effectiveness. They don't contain CFCs (chlorofluorocarbons), which are known to deplete the ozone layer.
Press the valve button down and lock it in place to release a continuous spray for fogging rooms in schools, nursing homes, hotels, laboratories, and offices. Make sure to keep these foggers away from heat, sparks, open flames, hot surfaces, and ignition sources. Leave the room and keep it closed for 2 hours while it's being fogged. After treatment, air out the room for 30 minutes. One 6-oz. can treats a 6,000 cu. ft. space, which equals a 25' Lg.×24' Wd.×10' Ht. room.
Press and release the valve button to use these foggers as intermittent cleaners. They're good for disinfecting a variety of surfaces, such as counters, handles, lockers, toilets, and showers.
Type

Size,




oz.

Composition
Harshness
For Use On
For
Removing
Scent
Each

Pkg.




Qty.

Pkg.

Liquid

Aerosol Can
6
Solvent Based
Harsh
Aluminum, Brass, Bronze, Ceramic, Chrome, Concrete, Copper, Galvanized Steel, Glass, Grout, Leather, Linoleum, Painted Surfaces, Plastic, Porcelain, Rubber, Stainless Steel, Steel, Stone, Terrazzo, Vinyl, Waxed Floors, Wood
Bacteria, Odors, Viruses
Citrus
0000000
00000
12
0000000
000000
Clean Room Sanitizers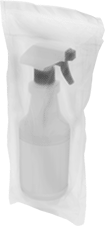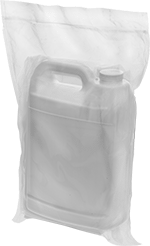 These sanitizers are made from sterile denatured ethanol and can be used in clean rooms. The containers come double bagged. They cannot be sold outside the United States due to product registration requirements.
Type
Size
Composition
Harshness
For
Use
On
For
Removing
Environmental
Rating
Cannot
Be
Sold To
Each

Liquid

Spray Bottle
16 oz.
Solvent Based
Harsh
Aluminum, Brass, Bronze, Ceramic, Chrome, Copper, Galvanized Steel, Glass, Linoleum, Painted Surfaces, Plastic, Porcelain, Stainless Steel, Steel, Vinyl, Waxed Floors
Bacteria, Viruses
Fed. Std. Class 100, ISO Class 5
Outside United States
0000000
000000
Jug
1 gal.
Solvent Based
Harsh
Aluminum, Brass, Bronze, Ceramic, Chrome, Copper, Galvanized Steel, Glass, Linoleum, Painted Surfaces, Plastic, Porcelain, Stainless Steel, Steel, Vinyl, Waxed Floors
Bacteria, Viruses
Fed. Std. Class 100, ISO Class 5
Outside United States
0000000
000000