Narrow Body Eye
Hooks—

For Lifting
A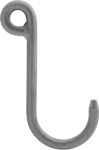 B

C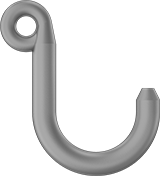 D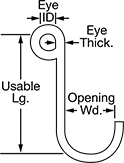 Insert in eyes, links, rings, and other connectors with small openings. Also known as J-hooks.
Forged hooks are stronger than welded hooks.
Welded hooks are the economical alternative to forged hooks, but they're not as strong.
316 stainless steel hooks have excellent resistance to salt water and chemicals.
Note: Capacities are for vertical lifting only.
For technical drawings and 3-D models, click on a part number.
Capacity,




lbs.

Opening


Wd.

Usable


Lg.

ID

Thick.

Max.




Temperature,

° F

Each

Forged Alloy Steel

A
2,200
2

1/2

"
4

3/8

"

3/4

"

7/16

"
400°
0000000
0000000
A
3,600
3

5/8

"
6

3/4

"

3/4

"

7/16

"
400°
0000000
000000

Welded Alloy Steel

A
250
1

1/4

"
5"

3/4

"

5/16

"
400°
0000000
00000
A
350
1

1/2

"
6"

3/4

"

3/8

"
400°
0000000
00000
A
650
2"
8"

3/4

"

1/2

"
400°
0000000
00000
A
850
2

1/2

"
9"
1"

5/8

"
400°
0000000
00000
A
1,200
3"
10"
1"

3/4

"
400°
0000000
000000
A
2,000
4"
14"
1

1/4

"
1"
400°
0000000
000000
A
2,750
5"
16"
1

1/2

"
1

1/4

"
400°
0000000
000000
B
250
1

1/4

"
5"

3/4

"

5/16

"
400°
0000000
00000
B
350
1

1/2

"
6"

3/4

"

3/8

"
400°
0000000
00000
B
500
2

1/2

"
6"

3/4

"

1/2

"
400°
0000000
00000
B
800
3

1/2

"
8

1/2

"

3/4

"

5/8

"
400°
0000000
00000
B
1,300
3

1/2

"
8

1/2

"

3/4

"

3/4

"
400°
0000000
00000
B
1,600
3

1/2

"
8

1/2

"

7/8

"

13/16

"
400°
0000000
00000
B
2,500
4"
8

1/2

"
1"
1"
400°
0000000
000000
C
250
1

1/4

"
5"

3/4

"

5/16

"
400°
0000000
00000
C
350
1

1/2

"
6"

3/4

"

3/8

"
400°
0000000
00000
C
650
2"
8"

3/4

"

1/2

"
400°
0000000
00000
C
850
2

1/2

"
9"
1"

5/8

"
400°
0000000
00000
C
1,200
3"
10"
1"

3/4

"
400°
0000000
000000
C
1,500
3

1/2

"
12"
1"

7/8

"
400°
0000000
000000
C
2,000
4"
14"
1

1/4

"
1"
400°
0000000
000000
C
3,000
5

1/2

"
17"
1

1/2

"
1

3/8

"
400°
0000000
000000
D
3,500
4"
8

1/2

"
1"

3/4

"
400°
0000000
000000
D
4,500
4"
8

1/2

"
1

1/4

"
1"
400°
0000000
000000
D
6,000
5"
8

1/2

"
1

1/4

"
1"
400°
0000000
000000

Welded 316 Stainless Steel

B
200
3"
6"

9/16

"

1/2

"
400°
0000000
00000
B
300
3"
6"

9/16

"

5/8

"
400°
0000000
000000
B
500
3"
6"

3/4

"

3/4

"
400°
0000000
000000
D
1,500
3"
6"
1"
1"
400°
0000000
000000