About Electric Motors
When replacing a motor, use the information on your motor's nameplate to guide your selection.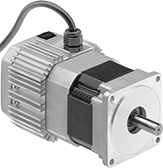 Motor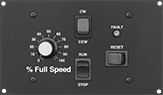 Control Face


Maintain speed automatically. These motors come with a speed control with a feedback sensor that adjusts power to maintain your set speed. They combine the speed control characteristics of permanent magnet brushless DC motors with the convenience of AC power—an integrated inverter means they operate on 120 volts AC.
Motors are rated for continuous duty and mount at any angle. Shaft is keyed and comes with key stock. Use the switch on the speed control to set clockwise or counterclockwise rotation.
All have manual overload protection—an LED on the speed control indicates when the overload protection is triggered; use the switch to reset. Control also has an on/off switch and a speed adjustment knob. Panel mount the control up to 10 feet from the motor—it comes with a 10-ft. cable for connection.
For technical drawings and 3-D models, click on a part number.
Power,


hp

Max.




Speed,


rpm
Starting


Torque,




in.-lbs.

Torque @


Max.




Speed,

in.-lbs.

Full Load


Current,


A
Motor
Enclosure
Type

Lg.

Wd.

Ht.

Dia.

Lg.

Center
to
Base

Wd.

Ht.

Class

Max.




Temp.,




° F

Environmental
Rating
Each

1/5

1,750
8.1
8.1
2
Totally Enclosed Nonventilated (TENV)
7

1/2

"
4"
4

1/4

"

1/2

"
1.21"
1.93"
4"
2

7/8

"
B
266°
IP50
000000
000000000

1/3

1,750
13.4
13.4
8
Totally Enclosed Nonventilated (TENV)
8

1/2

"
4"
4

1/4

"

1/2

"
1.21"
1.93"
4"
2

7/8

"
B
266°
IP50
000000
00000000

1/3

3,450
6.5
6.5
4
Totally Enclosed Nonventilated (TENV)
7

1/2

"
4"
4

1/4

"

1/2

"
1.21"
1.93"
4"
2

7/8

"
B
266°
IP50
000000
00000000