Spiked Rollers for
Self-Leveling

Floor Coatings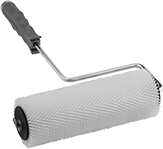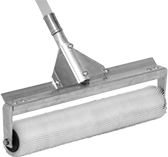 Tiny spikes covering these rollers release trapped gas when rolled over thick self-leveling floor coatings to promote adhesion and aid in the self-leveling process.
9" long rollers have a 5/8" Acme threaded hole to attach an extension handle (sold separately).
18" long rollers come with a 5-foot extension handle that screws into the frame.
Lg.

Nap


Thick.

Core


Dia.

Included
Handle


Lg.

Handle
Frame
Nap
Roller
Cover
Core
For
Surface
Texture
For
Use
With
Each
Each
9"

9/16

"
1"
Yes
6"
Plastic
Aluminum
Plastic
Aluminum
Semi-Smooth
Solvent-Based Paint and Coatings, Water-Based Paint and Coatings
0000000
0000000
0000000
000000
18"

9/16

"
1"
Yes
60"
Fiberglass
Aluminum
Plastic
Aluminum
Semi-Smooth
Solvent-Based Paint and Coatings, Water-Based Paint and Coatings
0000000
000000
0000000
00000