About
Vibration-Damping

Mounts
Adjustable Air Springs
Isolate vibration and absorb shock from moving equipment, even with changing loads. Also for leveling and lifting, use compressed air to adjust air springs to the height and force required for your application. They're often used with vibratory screen and conveyors; loading and transfer stations; and sensitive testing and measuring equipment. Do not extend beyond height at full stroke.

Installed On A Gas Spring

Install these bellows over gas springs to protect their piston rods. These molded bellows are airtight to keep contaminants out. Air venting may be necessary in fast-cycling applications. Secure the bellows in place with the included hose clamps.
For Body


Dia.

For

Max.


Stroke

Lg.

Material
Material


Thick.

Temp.




Range,

°F

Each

Protects Against Abrasive

Grit,

Coolant,

Cutting

Fluid,

Dust,

Metal

Chips,

Salt

Water,

Synthetic

Oil,

Water,

Wood Chips

0.59"
3.54"
Rubber
0.03"
-30° to 200°
0000000
000000
0.75"
8.5"
Rubber
0.03"
-30° to 200°
0000000
00000
0.87"
9.84"
Rubber
0.03"
-30° to 200°
0000000
00000
0.87"
16.14"
Rubber
0.03"
-30° to 200°
0000000
00000
Adjustable
Extreme-Force

Bolt-Down

Vibration-Damping

Mounts with Threaded Hole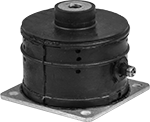 Connect these mounts to your air supply for vibration and shock isolation in compression load applications. They handle the high impact of equipment such as punch presses, blowers, forging hammers, shakers, vibrators, and air compressors. Use the holes in the base to bolt down these mounts to keep your equipment stationary. Neoprene rubber has good resistance to oil and gasoline. You can add or release air for leveling (±1/4" adjustment).
For technical drawings and 3-D models, click on a part number.
Thread
Size

Capacity
per


Mount,

lbs.

Deflection
@
Capacity

O'all




Ht.

Dia.

Ht.

Base


Lg.

Base


Wd.

Hardness

Max.




Pressure,


psi
Temperature


Range,




°F

Features
Mounting
Fasteners
Included

No.


of

Dia.

Ctr.-to-Ctr.

Each

Neoprene Rubber with Aluminum Base and Aluminum Plate

3/8

"-16

100
1"
2.5"
2.88"
2"
3"
3"
Durometer 60A
60
-20° to 180°
0.30" Dia. Threaded Air Inlet
No
4
0.3"
2.38"
00000000
0000000

1/2

"-13

300
1"
2.45"
4.14"
1.91"
4.19"
4.19"
Durometer 60A
60
-20° to 180°
0.30" Dia. Threaded Air Inlet
No
4
0.3"
3.5"
00000000
000000

1/2

"-13

600
1.5"
3.5"
5"
2.94"
5.12"
5.12"
Durometer 60A
80
-20° to 180°
0.30" Dia. Threaded Air Inlet
No
4
0.3"
4.25"
00000000
000000
M10

100
0.5"
2.5"
2.89"
1.94"
3"
3"
Durometer 65A
85
-20° to 180°
0.30" Dia. Threaded Air Inlet
No
4
0.3"
2.38"
00000000
00000
M12

300
0.5"
2.5"
4.14"
1.94"
4.19"
4.19"
Durometer 65A
85
-20° to 180°
0.30" Dia. Threaded Air Inlet
No
4
0.3"
3.5"
00000000
00000
M12

550
0.5"
3.5"
5"
2.94"
5.13"
5.13"
Durometer 65A
85
-20° to 180°
0.30" Dia. Threaded Air Inlet
No
4
0.3"
4.25"
00000000
000000
M12

1,200
0.5"
3.5"
6.74"
2.94"
6.88"
6.88"
Durometer 65A
85
-20° to 180°
0.30" Dia. Threaded Air Inlet
No
4
0.3"
6"
00000000
000000
M16

2,400
0.5"
3.5"
9.66"
2.94"
10"
10"
Durometer 65A
85
-20° to 180°
0.30" Dia. Threaded Air Inlet
No
4
0.56"
8.5"
00000000
000000

Neoprene Rubber with Aluminum Base and Steel Plate

1/2

"-13

1,200
1.5"
3.5"
6.74"
2.94"
6.88"
6.88"
Durometer 60A
80
-20° to 180°
0.30" Dia. Threaded Air Inlet
No
4
0.3"
6"
00000000
000000

5/8

"-11
2,400
1.5"
3.5"
9.66"
2.94"
10"
10"
Durometer 60A
80
-20° to 180°
0.30" Dia. Threaded Air Inlet
No
4
0.56"
8.5"
00000000
000000

5/8

"-11
4,800
1.5"
3.5"
13.31"
2.94"
13.5"
13.5"
Durometer 60A
80
-20° to 180°
0.30" Dia. Threaded Air Inlet
No
4
0.56"
12"
00000000
000000