About Measuring Hose and Tube Clamps
What's the best way to determine the clamp size you'll need? Simply measure the outside diameter of your hose with the fitting installed. Some clamps accommodate a range of sizes, so be sure the size you need falls in the middle of that range.
Spring Clamp Pliers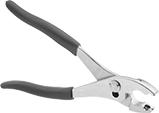 Install and remove spring-tension hose clamps.
Overall


Lg.

Jaw Opening
Style
Each
8"
Manual
0000000
000000

The tips adjust to accommodate the clamps often found on heater and radiator hoses.
Overall


Lg.

Jaw Opening
Style
Each
13"
Manual
0000000
000000
Squeeze-to-Open

Bent-Nose

Pliers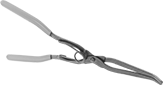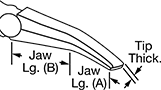 Squeeze the handles to open the jaws; release to snap them closed. Once closed, they stay clamped in place to leave your hands free. These pliers reach around closely spaced components and other obstructions to grip small workpieces. They have plastic grips for comfort.
Overall


Lg.

Max.


Capacity
Bend

Lg.




(A)

Lg.




(B)

Texture
Tip


Thick.

Material
Each

Flat Jaws and Cushion Grip

9

1/4

"
1

1/4

"
35°

9/16

"
3

1/16

"
Serrated

1/4

"
Steel
0000000
000000