About
Vibration-Damping

Mounts
Extreme-Force

Bolt-Down

Vibration-Damping

Mounts with Threaded Hole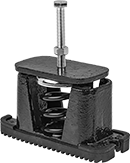 Spring action provides significant isolation of vibration and noise. These mounts are great for high-impact applications such as punch presses and hammers and machines operating as slowly as 500 rpm. A rubber pad is bonded to the base to limit movement. Use the holes in the base to bolt down these mounts to keep your equipment stationary. Mounts are for use in compression load applications. An adjustment bolt with locking nut lets you use mounts for leveling. For best results, adjust the leveling bolt so the plate is 1/4"- 1/2" above the top of the base.
Mounts with 2 or 4 springs meet ANSI/ASHRAE 171 seismic testing standards for resistance to wind and seismic loads. They provide isolation of vibration in all directions during earthquakes.
For technical drawings and 3-D models, click on a part number.
Thread
Size

Thread


Lg.

Capacity
per


Mount,

lbs.

Deflection
@
Capacity

O'all




Ht.

Base


Lg.

Base


Wd.

Temp.




Range,




°F

Mounting
Fasteners
Included

Dia.

Ctr.-to-Ctr.

Specifications
Met
Each
Each

Steel with Iron Base and Plate and

Zinc-Plated

Steel Stud

3/8

"-16

3"
50
1"
3.375"
5.875"
2.38"
-20° to 180°
No
0.438"
5"
__
0000000
000000
0000000
00000

3/8

"-16

3"
100
1"
3.375"
5.875"
2.38"
-20° to 180°
No
0.438"
5"
__
0000000
00000
0000000
0000

3/8

"-16

3"
150
1"
3.375"
5.875"
2.38"
-20° to 180°
No
0.438"
5"
__
0000000
00000
0000000
0000

3/8

"-16

3"
250
0.83"
3.375"
5.875"
2.38"
-20° to 180°
No
0.438"
5"
__
0000000
00000
0000000
0000

3/8

"-16

3"
370
0.75"
3.375"
5.875"
2.38"
-20° to 180°
No
0.438"
5"
__
0000000
00000
0000000
0000

3/8

"-16

3"
520
0.75"
3.375"
5.875"
2.38"
-20° to 180°
No
0.438"
5"
__
0000000
00000
0000000
00000

1/2

"-13

3

1/2

"
675
1.32"
5.25"
7.75"
3"
-20° to 180°
No
0.625"
6.5"
__
0000000
00000
0000000
00000

1/2

"-13

3

1/2

"
900
1.02"
5.25"
7.75"
3"
-20° to 180°
No
0.625"
6.5"
__
0000000
00000
0000000
00000

1/2

"-13

3

1/2

"
1,200
0.9"
5.25"
7.75"
3"
-20° to 180°
No
0.625"
6.5"
__
0000000
00000
0000000
00000

1/2

"-13

3

1/2

"
1,785
0.88"
5.25"
7.75"
3"
-20° to 180°
No
0.625"
6.5"
__
0000000
00000
0000000
00000

Steel with Steel Base and Plate and

Zinc-Plated

Steel Stud

3/4

"-16

5"
280
1.5"
7"
12"
8"
-20° to 155°
No
0.688"
10.25"
ANSI/ASHRAE Standard 171
0000000
000000
0000000
00000

3/4

"-16

5"
500
1.5"
7"
12"
8"
-20° to 155°
No
0.688"
10.25"
ANSI/ASHRAE Standard 171
0000000
000000
0000000
00000

3/4

"-16

5"
770
1.5"
7"
12"
8"
-20° to 155°
No
0.688"
10.25"
ANSI/ASHRAE Standard 171
0000000
000000
0000000
00000

3/4

"-16

5"
1,260
1.5"
7"
12"
8"
-20° to 155°
No
0.688"
10.25"
ANSI/ASHRAE Standard 171
0000000
000000
0000000
00000

3/4

"-16

5"
1,530
1.5"
7"
12"
8"
-20° to 155°
No
0.688"
10.25"
ANSI/ASHRAE Standard 171
0000000
000000
0000000
00000

3/4

"-16

5"
1,710
1.5"
7"
12"
8"
-20° to 155°
No
0.688"
10.25"
ANSI/ASHRAE Standard 171
0000000
000000
0000000
00000

3/4

"-16

5"
1,860
1.5"
7"
12"
8"
-20° to 155°
No
0.688"
10.25"
ANSI/ASHRAE Standard 171
0000000
000000
0000000
00000

3/4

"-16

5"
2,060
1.5"
7"
12"
8"
-20° to 155°
No
0.688"
10.25"
ANSI/ASHRAE Standard 171
0000000
000000
0000000
00000

3/4

"-16

5"
2,960
1.5"
7"
12"
8"
-20° to 155°
No
0.688"
10.25"
ANSI/ASHRAE Standard 171
0000000
000000
0000000
00000

3/4

"-16

5"
4,260
1.5"
7"
12"
8"
-20° to 155°
No
0.688"
10.25"
ANSI/ASHRAE Standard 171
0000000
000000
0000000
00000
1-14

6"
560
1.5"
7.5"
17"
8"
-20° to 155°
No
0.813"
15.125"
ANSI/ASHRAE Standard 171
0000000
000000
0000000
00000
1-14

6"
1,000
1.5"
7.5"
17"
8"
-20° to 155°
No
0.813"
15.125"
ANSI/ASHRAE Standard 171
0000000
000000
0000000
00000
1-14

6"
1,540
1.5"
7.5"
17"
8"
-20° to 155°
No
0.813"
15.125"
ANSI/ASHRAE Standard 171
0000000
000000
0000000
00000
1-14

6"
2,520
1.5"
7.5"
17"
8"
-20° to 155°
No
0.813"
15.125"
ANSI/ASHRAE Standard 171
0000000
000000
0000000
00000
1-14

6"
3,060
1.5"
7.5"
17"
8"
-20° to 155°
No
0.813"
15.125"
ANSI/ASHRAE Standard 171
0000000
000000
0000000
00000
1-14

6"
3,420
1.5"
7.5"
17"
8"
-20° to 155°
No
0.813"
15.125"
ANSI/ASHRAE Standard 171
0000000
000000
0000000
00000
1-14

6"
3,720
1.5"
7.5"
17"
8"
-20° to 155°
No
0.813"
15.125"
ANSI/ASHRAE Standard 171
0000000
000000
0000000
00000
1-14

6"
4,120
1.5"
7.5"
17"
8"
-20° to 155°
No
0.813"
15.125"
ANSI/ASHRAE Standard 171
0000000
000000
0000000
00000
1-14

6"
5,920
1.5"
7.5"
17"
8"
-20° to 155°
No
0.813"
15.125"
ANSI/ASHRAE Standard 171
0000000
000000
0000000
00000
1-14

6"
8,520
1.5"
7.5"
17"
8"
-20° to 155°
No
0.813"
15.125"
ANSI/ASHRAE Standard 171
0000000
000000
0000000
00000