Fastener-Mount

Compression Springs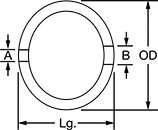 Mount these springs on their side to absorb impact in a small amount of space. Differently sized screw holes on either side allow for mounting flexibility. Springs are a polyester/rubber blend that is wear, oil, and fuel resistant.
Energy is calculated based on the direction of your load. For an object that is dropped, energy equals the weight of the item multiplied by distance dropped. For an object moving horizontally, energy equals half of the mass of the item multiplied by velocity squared (1/2 mv²).
For technical drawings and 3-D models, click on a part number.
Lg.

OD

Wd.

Compressed


Lg.

@


Max.

Load
Compressed
OD @


Max.

Load

Max.




Load,




lbs.

Energy


Capacity,




in.-lbs.

(A)

(B)

Mounting
Fasteners
Included
Material
Hardness
Temperature


Range,




°F

Each
3.01"
3.72"
3.21"
1.03"
4.87"
2,800
2,000
0.4"
0.6"
No
Polyester/Rubber Blend
Durometer 40D
-40° to 120°
0000000
000000