Two-Piece

Standoff

Panel-Hanging

Brackets
Fit these brackets through drilled holes in panels. They give mounted display panels, signs, and glass panels an updated look while maintaining a uniform space between the panel and mounting surface. Each bracket includes a barrel, cap, and set screw.
For technical drawings and 3-D models, click on a part number.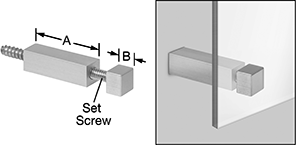 Square
Square brackets include a threaded mounting stud.
(A)

(B)

Ht.

Wd.

Capacity
Fasteners
Included
Hole
Thread Size

Each

For

1/8"

Max.

Panel

Thickness—

Anodized Aluminum

(Dull)

1/2

"

3/8

"

3/8

"

3/8

"
Not Rated
Yes
10-24

000000000
000000

1/2

"

3/8

"

1/2

"

1/2

"
Not Rated
Yes

1/4

"-20

000000000
00000

3/4

"

3/8

"

3/8

"

3/8

"
Not Rated
Yes
10-24

000000000
00000

3/4

"

3/8

"

1/2

"

1/2

"
Not Rated
Yes

1/4

"-20

000000000
00000
1"

3/8

"

3/8

"

3/8

"
Not Rated
Yes
10-24

000000000
00000
1"

3/8

"

1/2

"

1/2

"
Not Rated
Yes

1/4

"-20

000000000
00000
2"

3/8

"

3/8

"

3/8

"
Not Rated
Yes
10-24

000000000
00000
2"

3/8

"

1/2

"

1/2

"
Not Rated
Yes

1/4

"-20

000000000
00000
3"

3/8

"

1/2

"

1/2

"
Not Rated
Yes

1/4

"-20

000000000
00000

For

1/8"

Max.

Panel

Thickness—

Black Anodized Aluminum

(Dull)

1/2

"

3/8

"

3/8

"

3/8

"
Not Rated
Yes
10-24

000000000
00000

1/2

"

3/8

"

1/2

"

1/2

"
Not Rated
Yes

1/4

"-20

000000000
00000

3/4

"

3/8

"

3/8

"

3/8

"
Not Rated
Yes
10-24

000000000
00000

3/4

"

3/8

"

1/2

"

1/2

"
Not Rated
Yes

1/4

"-20

000000000
00000
1"

3/8

"

3/8

"

3/8

"
Not Rated
Yes
10-24

000000000
00000
1"

3/8

"

1/2

"

1/2

"
Not Rated
Yes

1/4

"-20

000000000
00000
2"

3/8

"

3/8

"

3/8

"
Not Rated
Yes
10-24

000000000
00000
2"

3/8

"

1/2

"

1/2

"
Not Rated
Yes

1/4

"-20

000000000
00000
3"

3/8

"

1/2

"

1/2

"
Not Rated
Yes

1/4

"-20

000000000
00000

For

1/4"

Max.

Panel

Thickness—

Anodized Aluminum

(Dull)

1/2

"

3/8

"
1"
1"
Not Rated
Yes

5/16

"-18

000000000
00000

3/4

"

3/8

"
1"
1"
Not Rated
Yes

5/16

"-18

000000000
00000
1"

3/8

"
1"
1"
Not Rated
Yes

5/16

"-18

000000000
00000
2"

3/8

"
1"
1"
Not Rated
Yes

5/16

"-18

000000000
00000
3"

3/8

"
1"
1"
Not Rated
Yes

5/16

"-18

000000000
00000

For

1/4"

Max.

Panel

Thickness—

Black Anodized Aluminum

(Dull)

1/2

"

3/8

"
1"
1"
Not Rated
Yes

5/16

"-18

000000000
00000

3/4

"

3/8

"
1"
1"
Not Rated
Yes

5/16

"-18

000000000
00000
1"

3/8

"
1"
1"
Not Rated
Yes

5/16

"-18

000000000
00000
2"

3/8

"
1"
1"
Not Rated
Yes

5/16

"-18

000000000
00000
3"

3/8

"
1"
1"
Not Rated
Yes

5/16

"-18

000000000
00000