Warning: Products have one, but not necessarily all, of the selected characteristics.
Number of Flutes

Number of Flutes
For Tool Type

For Tool Type
Chip Removal Direction

Chip Removal Direction
DFARS (Defense Acquisition Regulations Supplement)

DFARS

(Defense

Acquisition
Regulations

Supplement)
Spiral Router Bits for Steel and Stainless Steel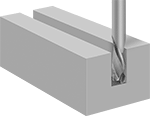 Square Cut Style

The aluminum-titanium-nitride (AlTiN) coating on these bits resists heat and wear when cutting steel and stainless steel. They have a square cut style for creating slots, pockets, and edges. With spiral flutes, they leave a smooth finish and are good for making plunge cuts. The flutes lift chips up from the workpiece for applications that require a smooth finish on the bottom edge of the cut. Securely clamp your material before routing to prevent lifting. These bits are solid carbide for the longest tool life and fastest cutting speeds. The extreme hardness of carbide bits means they are brittle, so a highly rigid setup, such as a CNC machine, is necessary to prevent the bit from breaking.
Cutting


Dia.

Lg.

of
Cut
Shank


Dia.

Overall


Lg.

Number
of Flutes
For Tool Type
Each

Aluminum Titanium Nitride

(AlTiN)

Coated Carbide

Spiral Flutes with Upward Chip Removal

1/8

"

1/4

"

1/8

"
2"
2
CNC Machine
0000000
000000

3/16

"

3/8

"

3/16

"
2

1/2

"
2
CNC Machine
0000000
00000

1/4

"

3/8

"

1/4

"
2

1/2

"
2
CNC Machine
0000000
00000

3/8

"

1/2

"

3/8

"
3"
2
CNC Machine
0000000
00000