Removes Particle Size Down To

Removes Particle
Size Down To
DFARS (Defense Acquisition Regulations Supplement)

DFARS

(Defense

Acquisition
Regulations

Supplement)
About Wire Cloth and Plastic Mesh
Porous Stainless Steel Discs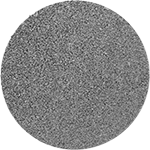 Also known as sintered filters and frits, these discs have tiny holes that trap very small particles. Discs are often used in laboratories and gas-bubbling applications (sparging). They're made of 316L stainless steel for excellent corrosion and abrasion resistance.
Select discs based on the size of the particles you wish to remove. For example, the particle size of talcum is about 10 microns. View more information on particle size in microns.
For technical drawings and 3-D models, click on a part number.
Stainless Steel Wire Cloth Discs

A convenient solution for inline filtering, discs are die cut for an exact diameter with smooth edges for use in tube, pipe, and duct. They are often used as replacement screens in plastic extruders.
316 stainless steel has better corrosion and abrasion resistance than 304 stainless steel.
Mesh Size

Opening
Size
Open
Area
Wire

Dia.

Pkg.




Qty.

Pkg.

304 Stainless Steel

20 × 20
0.034"
46%
0.016"
25
00000000
000000
30 × 30
0.021"
40%
0.012"
25
00000000
00000
40 × 40
0.015"
36%
0.01"
25
00000000
00000
60 × 60
0.009"
30%
0.0075"
25
00000000
00000
80 × 80
0.007"
31%
0.0055"
25
00000000
00000
100 × 100
0.006"
30%
0.0045"
25
00000000
00000
200 × 200
0.003"
34%
0.0021"
25
00000000
00000
20 × 20
0.034"
46%
0.016"
25
00000000
00000
30 × 30
0.021"
40%
0.012"
25
00000000
00000
40 × 40
0.015"
36%
0.01"
25
00000000
00000
60 × 60
0.009"
30%
0.0075"
25
00000000
00000
80 × 80
0.007"
31%
0.0055"
25
00000000
00000
100 × 100
0.006"
30%
0.0045"
25
00000000
00000
200 × 200
0.003"
34%
0.0021"
25
00000000
00000
20 × 20
0.034"
46%
0.016"
25
00000000
00000
30 × 30
0.021"
40%
0.012"
25
00000000
00000
40 × 40
0.015"
36%
0.01"
25
00000000
00000
60 × 60
0.009"
30%
0.0075"
25
00000000
00000
80 × 80
0.007"
31%
0.0055"
25
00000000
00000
100 × 100
0.006"
30%
0.0045"
25
00000000
00000
200 × 200
0.003"
34%
0.0021"
25
00000000
00000
20 × 20
0.034"
46%
0.016"
25
00000000
00000
30 × 30
0.021"
40%
0.012"
25
00000000
00000
40 × 40
0.015"
36%
0.01"
25
00000000
00000
60 × 60
0.009"
30%
0.0075"
25
00000000
00000
80 × 80
0.007"
31%
0.0055"
25
00000000
00000
100 × 100
0.006"
30%
0.0045"
25
00000000
00000
200 × 200
0.003"
34%
0.0021"
25
00000000
00000
20 × 20
0.034"
46%
0.016"
25
00000000
00000
30 × 30
0.021"
40%
0.012"
25
00000000
00000
40 × 40
0.015"
36%
0.01"
25
00000000
00000
60 × 60
0.009"
30%
0.0075"
25
00000000
00000
80 × 80
0.007"
31%
0.0055"
25
00000000
00000
100 × 100
0.006"
30%
0.0045"
25
00000000
00000
200 × 200
0.003"
34%
0.0021"
25
00000000
00000
20 × 20
0.034"
46%
0.016"
25
00000000
00000
30 × 30
0.021"
40%
0.012"
25
00000000
00000
40 × 40
0.015"
36%
0.01"
25
00000000
00000
60 × 60
0.009"
30%
0.0075"
25
00000000
00000
80 × 80
0.007"
31%
0.0055"
25
00000000
00000
100 × 100
0.006"
30%
0.0045"
25
00000000
00000
200 × 200
0.003"
34%
0.0021"
25
00000000
00000
20 × 20
0.034"
46%
0.016"
25
00000000
00000
30 × 30
0.021"
40%
0.012"
25
00000000
00000
40 × 40
0.015"
36%
0.01"
25
00000000
00000
60 × 60
0.009"
30%
0.0075"
25
00000000
00000
80 × 80
0.007"
31%
0.0055"
25
00000000
00000
100 × 100
0.006"
30%
0.0045"
25
00000000
00000
200 × 200
0.003"
34%
0.0021"
25
00000000
00000
20 × 20
0.034"
46%
0.016"
25
00000000
00000
30 × 30
0.021"
40%
0.012"
25
00000000
00000
40 × 40
0.015"
36%
0.01"
25
00000000
00000
60 × 60
0.009"
30%
0.0075"
25
00000000
00000
80 × 80
0.007"
31%
0.0055"
25
00000000
00000
100 × 100
0.006"
30%
0.0045"
25
00000000
00000
200 × 200
0.003"
34%
0.0021"
25
00000000
00000
20 × 20
0.034"
46%
0.016"
25
00000000
00000
30 × 30
0.021"
40%
0.012"
25
00000000
00000
40 × 40
0.015"
36%
0.01"
25
00000000
00000
60 × 60
0.009"
30%
0.0075"
25
00000000
00000
80 × 80
0.007"
31%
0.0055"
25
00000000
00000
100 × 100
0.006"
30%
0.0045"
25
00000000
00000
200 × 200
0.003"
34%
0.0021"
25
00000000
00000
20 × 20
0.034"
46%
0.016"
25
00000000
00000
30 × 30
0.021"
40%
0.012"
25
00000000
00000
40 × 40
0.015"
36%
0.01"
25
00000000
00000
60 × 60
0.009"
30%
0.0075"
25
00000000
00000
80 × 80
0.007"
31%
0.0055"
25
00000000
00000
100 × 100
0.006"
30%
0.0045"
25
00000000
00000
200 × 200
0.003"
34%
0.0021"
25
00000000
00000
20 × 20
0.034"
46%
0.016"
25
00000000
00000
30 × 30
0.021"
40%
0.012"
25
00000000
00000
40 × 40
0.015"
36%
0.01"
25
00000000
00000
60 × 60
0.009"
30%
0.0075"
25
00000000
00000
80 × 80
0.007"
31%
0.0055"
25
00000000
00000
100 × 100
0.006"
30%
0.0045"
25
00000000
00000
200 × 200
0.003"
34%
0.0021"
25
00000000
00000
20 × 20
0.034"
46%
0.016"
25
00000000
00000
30 × 30
0.021"
40%
0.012"
25
00000000
00000
40 × 40
0.015"
36%
0.01"
25
00000000
00000
60 × 60
0.009"
30%
0.0075"
25
00000000
00000
80 × 80
0.007"
31%
0.0055"
25
00000000
00000
100 × 100
0.006"
30%
0.0045"
25
00000000
00000
200 × 200
0.003"
34%
0.0021"
25
00000000
00000
20 × 20
0.034"
46%
0.016"
25
00000000
00000
30 × 30
0.021"
40%
0.012"
25
00000000
00000
40 × 40
0.015"
36%
0.01"
25
00000000
00000
60 × 60
0.009"
30%
0.0075"
25
00000000
00000
80 × 80
0.007"
31%
0.0055"
25
00000000
00000
100 × 100
0.006"
30%
0.0045"
25
00000000
00000
200 × 200
0.003"
34%
0.0021"
25
00000000
00000
20 × 20
0.034"
46%
0.016"
25
00000000
00000
30 × 30
0.021"
40%
0.012"
25
00000000
00000
40 × 40
0.015"
36%
0.01"
25
00000000
00000
60 × 60
0.009"
30%
0.0075"
25
00000000
00000
80 × 80
0.007"
31%
0.0055"
25
00000000
00000
100 × 100
0.006"
30%
0.0045"
25
00000000
00000
200 × 200
0.003"
34%
0.0021"
10
00000000
00000
20 × 20
0.034"
46%
0.016"
25
00000000
00000
30 × 30
0.021"
40%
0.012"
25
00000000
00000
40 × 40
0.015"
36%
0.01"
25
00000000
00000
60 × 60
0.009"
30%
0.0075"
25
00000000
00000
80 × 80
0.007"
31%
0.0055"
25
00000000
00000
100 × 100
0.006"
30%
0.0045"
25
00000000
00000
200 × 200
0.003"
34%
0.0021"
25
00000000
00000
20 × 20
0.034"
46%
0.016"
25
00000000
00000
30 × 30
0.021"
40%
0.012"
25
00000000
00000
40 × 40
0.015"
36%
0.01"
25
00000000
00000
60 × 60
0.009"
30%
0.0075"
25
00000000
00000
80 × 80
0.007"
31%
0.0055"
25
00000000
00000
100 × 100
0.006"
30%
0.0045"
25
00000000
00000
200 × 200
0.003"
34%
0.0021"
10
00000000
00000
20 × 20
0.034"
46%
0.016"
25
00000000
00000
30 × 30
0.021"
40%
0.012"
25
00000000
00000
40 × 40
0.015"
36%
0.01"
25
00000000
00000
60 × 60
0.009"
30%
0.0075"
25
00000000
00000
80 × 80
0.007"
31%
0.0055"
25
00000000
00000
100 × 100
0.006"
30%
0.0045"
25
00000000
00000
20 × 20
0.034"
46%
0.016"
10
00000000
00000
30 × 30
0.021"
40%
0.012"
10
00000000
00000
40 × 40
0.015"
36%
0.01"
10
00000000
00000
60 × 60
0.009"
30%
0.0075"
10
00000000
00000
80 × 80
0.007"
31%
0.0055"
10
00000000
00000
100 × 100
0.006"
30%
0.0045"
10
00000000
00000
20 × 20
0.034"
46%
0.016"
10
00000000
00000
30 × 30
0.021"
40%
0.012"
10
00000000
00000
40 × 40
0.015"
36%
0.01"
10
00000000
00000
60 × 60
0.009"
30%
0.0075"
10
00000000
00000
80 × 80
0.007"
31%
0.0055"
10
00000000
00000
100 × 100
0.006"
30%
0.0045"
10
00000000
00000
20 × 20
0.034"
46%
0.016"
2
00000000
00000
40 × 40
0.015"
36%
0.01"
2
00000000
00000
60 × 60
0.0092"
31%
0.0075"
2
00000000
00000
80 × 80
0.007"
31%
0.0055"
2
00000000
00000
100 × 100
0.0055"
30%
0.0045"
2
00000000
00000
20 × 20
0.034"
46%
0.016"
2
00000000
00000
40 × 40
0.015"
36%
0.01"
2
00000000
00000
60 × 60
0.0092"
31%
0.0075"
2
00000000
00000
80 × 80
0.007"
31%
0.0055"
2
00000000
00000
100 × 100
0.0055"
30%
0.0045"
2
00000000
00000
20 × 20
0.034"
46%
0.016"
2
00000000
00000
40 × 40
0.015"
36%
0.01"
2
00000000
00000
60 × 60
0.0092"
31%
0.0075"
2
00000000
00000
80 × 80
0.007"
31%
0.0055"
2
00000000
00000
100 × 100
0.0055"
30%
0.0045"
2
00000000
00000
20 × 20
0.034"
46%
0.016"
2
00000000
00000
40 × 40
0.015"
36%
0.01"
2
00000000
00000
60 × 60
0.0092"
31%
0.0075"
2
00000000
00000
80 × 80
0.007"
31%
0.0055"
2
00000000
00000
100 × 100
0.0055"
30%
0.0045"
2
00000000
00000
20 × 20
0.034"
46%
0.016"
2
00000000
00000
40 × 40
0.015"
36%
0.01"
2
00000000
00000
60 × 60
0.0092"
31%
0.0075"
2
00000000
00000
80 × 80
0.007"
31%
0.0055"
2
00000000
00000
100 × 100
0.0055"
30%
0.0045"
2
00000000
00000
20 × 20
0.034"
46%
0.016"
2
00000000
00000
40 × 40
0.015"
36%
0.01"
2
00000000
00000
60 × 60
0.0092"
31%
0.0075"
2
00000000
00000
80 × 80
0.007"
31%
0.0055"
2
00000000
00000
100 × 100
0.0055"
30%
0.0045"
2
00000000
00000
20 × 20
0.034"
46%
0.016"
2
00000000
00000
40 × 40
0.015"
36%
0.01"
2
00000000
00000
60 × 60
0.0092"
31%
0.0075"
2
00000000
00000
80 × 80
0.007"
31%
0.0055"
2
00000000
00000
100 × 100
0.0055"
30%
0.0045"
2
00000000
00000
20 × 20
0.034"
46%
0.016"
2
00000000
00000
40 × 40
0.015"
36%
0.01"
2
00000000
00000
60 × 60
0.0092"
31%
0.0075"
2
00000000
00000
80 × 80
0.007"
31%
0.0055"
2
00000000
00000
100 × 100
0.0055"
30%
0.0045"
2
00000000
00000
20 × 20
0.034"
46%
0.016"
2
00000000
00000
40 × 40
0.015"
36%
0.01"
2
00000000
00000
60 × 60
0.0092"
31%
0.0075"
2
00000000
00000
80 × 80
0.007"
31%
0.0055"
2
00000000
00000
100 × 100
0.0055"
30%
0.0045"
2
00000000
00000
20 × 20
0.034"
46%
0.016"
2
00000000
00000
40 × 40
0.015"
36%
0.01"
2
00000000
00000
60 × 60
0.0092"
31%
0.0075"
2
00000000
00000
80 × 80
0.007"
31%
0.0055"
2
00000000
00000
100 × 100
0.0055"
30%
0.0045"
2
00000000
00000

316 Stainless Steel

20 × 20
0.034"
46%
0.016"
10
0000000
0000
40 × 40
0.015"
36%
0.01"
10
0000000
0000
100 × 100
0.0055"
30%
0.0045"
10
0000000
0000
20 × 20
0.034"
46%
0.016"
10
0000000
0000
40 × 40
0.015"
36%
0.01"
10
0000000
0000
100 × 100
0.0055"
30%
0.0045"
10
0000000
0000
20 × 20
0.034"
46%
0.016"
10
0000000
00000
40 × 40
0.015"
36%
0.01"
10
0000000
00000
100 × 100
0.0055"
30%
0.0045"
10
0000000
0000
20 × 20
0.034"
46%
0.016"
10
0000000
00000
40 × 40
0.015"
36%
0.01"
10
0000000
00000
100 × 100
0.0055"
30%
0.0045"
10
0000000
0000
20 × 20
0.034"
46%
0.016"
10
0000000
00000
40 × 40
0.015"
36%
0.01"
10
0000000
00000
100 × 100
0.0055"
30%
0.0045"
10
0000000
0000
20 × 20
0.034"
46%
0.016"
10
0000000
00000
40 × 40
0.015"
36%
0.01"
10
0000000
00000
100 × 100
0.0055"
30%
0.0045"
10
0000000
00000
20 × 20
0.034"
46%
0.016"
10
0000000
00000
40 × 40
0.015"
36%
0.01"
10
0000000
00000
100 × 100
0.0055"
30%
0.005"
10
0000000
00000
20 × 20
0.034"
46%
0.016"
10
0000000
00000
40 × 40
0.015"
36%
0.01"
10
0000000
00000
100 × 100
0.0055"
30%
0.0045"
10
0000000
00000
20 × 20
0.034"
46%
0.016"
10
0000000
00000
40 × 40
0.015"
36%
0.01"
10
0000000
00000
100 × 100
0.0055"
30%
0.0045"
10
0000000
00000
20 × 20
0.034"
46%
0.016"
10
0000000
00000
40 × 40
0.015"
36%
0.01"
10
0000000
00000
100 × 100
0.0055"
30%
0.0045"
10
0000000
00000
20 × 20
0.034"
46%
0.016"
10
0000000
00000
40 × 40
0.015"
36%
0.01"
10
0000000
00000
100 × 100
0.0055"
30%
0.0045"
10
0000000
00000