System of Measurement

System of Measurement
DFARS (Defense Acquisition Regulations Supplement)

DFARS

(Defense

Acquisition
Regulations

Supplement)
Selecting Compatible Lead Screws and Nuts
Handle Nuts

A
C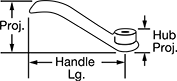 Use these handles for quick assembly and disassembly. Their offset grip provides leverage, making them a good alternative to wing nuts. Long shafts can thread through these handles for mounting versatility.
Stainless steel handle nuts have excellent corrosion resistance, making them the best choice for harsh environments. They also have good chemical resistance.
For technical drawings and 3-D models, click on a part number.
Size

Dp.

Handle


Lg.

Projection
Hub
Projection
Each

Threaded Through Hole

Stainless Steel

A

3/8

"-16

3/4

"
4

1/8

"
1

5/8

"

3/4

"
00000000
000000
A

3/8

"-24

3/4

"
4

1/8

"
1

5/8

"

3/4

"
00000000
00000
A

1/2

"-13

3/4

"
4

1/8

"
1

5/8

"

3/4

"
00000000
00000
A

1/2

"-20

3/4

"
4

1/8

"
1

5/8

"

3/4

"
00000000
00000
A

5/8

"-11

3/4

"
4

1/8

"
1

5/8

"

3/4

"
00000000
00000
A

5/8

"-18

3/4

"
4

1/8

"
1

5/8

"

3/4

"
00000000
00000
A

3/4

"-10

3/4

"
4

1/8

"
1

5/8

"

3/4

"
00000000
00000
A

3/4

"-16

3/4

"
4

1/8

"
1

5/8

"

3/4

"
00000000
00000
C

5/16

"-18

7/16

"
2

17/32

"
1

1/4

"

7/16

"
000000
00000
C

3/8

"-16

9/16

"
3

1/16

"
1

17/32

"

9/16

"
000000
00000
C

1/2

"-13

3/4

"
4

1/32

"
2"

3/4

"
000000
00000
C

5/8

"-11

7/8

"
5

1/16

"
2

1/2

"

7/8

"
0000000
00000
C

3/4

"-10

1

1/8

"
6

5/32

"
3

1/16

"
1

1/8

"
0000000
00000