Hoist Trolleys
Transport hook-mount hoists along a beam.
Stainless steel trolleys are corrosion resistant.
Trolleys with spacing washers can accommodate a range of beam widths; add or remove the washers to fit.
Warning: Never use to lift people or items over people.
For technical drawings and 3-D models, click on a part number.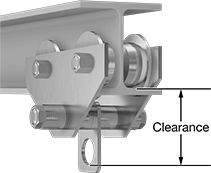 C
tons

lbs.

Shape

Wd.

Min.




Ht.

Clearance

Min.


Curve
Radius
Wheel
Material
Eye


Dia.

Adjustment
Type
Each

Stainless Steel

C

1/2

1,000
Flat, Tapered
2

3/4

"-5"
4"
5"
20"
Stainless Steel
1

3/4

"
Spacing Washers
0000000
000000000
C
1
2,000
Flat, Tapered
3"-5"
5"
5

1/2

"
24"
Stainless Steel
1

3/4

"
Spacing Washers
0000000
00000000
C
2
4,000
Flat, Tapered
3

1/2

"-6

1/4

"
6"
6

3/4

"
30"
Stainless Steel
2

1/8

"
Spacing Washers
0000000
00000000