For Mop Bucket Capacity

For Mop Bucket Capacity
DFARS (Defense Acquisition Regulations Supplement)

DFARS

(Defense

Acquisition
Regulations

Supplement)
Wringer Style

Wringer Style
For Maximum Mop Head Weight

For Maximum
Mop Head Weight
For Minimum Mop Head Weight

For Minimum
Mop Head Weight
Inside Bucket Height

Inside Bucket Height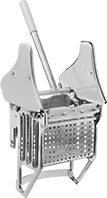 Galvanized Steel and Stainless Steel Downward Wringer
Stainless steel wringers provide maximum corrosion resistance.
Downward-style wringers have a center-mounted handle that moves two wringer plates downward against the mop to squeeze out more water than the sideward-style wringer.
For Mop Bucket


Capacity,

qt.

For Mop Head


Weight,

oz.

Each

Stainless Steel

Downward

20
16-24
0000000
0000000
Stainless steel bucket provides maximum corrosion resistance.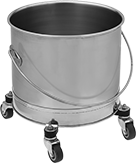 Stainless Steel
Capacity,




qt.

Dia.

Ht.

Features
Each

Stainless Steel

20
12"
13

1/2

"
Casters
Handle
Measuring Graduations
0000000
0000000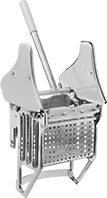 Galvanized Steel and Stainless Steel Downward Wringer