Stainless Steel
Bench-Height

Cabinets
Protect against corrosion with these stainless steel cabinets.
The 15" wide cabinets have a built-in maintenance cart to move large items, such as motors, pumps, and tanks, along with your tools and other small parts. Two additional center wheels let you spin the cabinets 360°, making them easy to get in and out of tight spaces, such as elevators and wire enclosures.
For technical drawings and 3-D models, click on a part number.
Stainless Steel Bench-Height Cabinets with Maintenance Cart—Assembled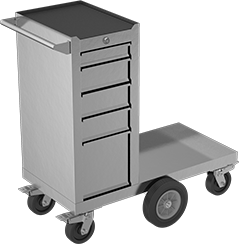 5 Drawer
Bench-Height
Cabinet with Maintenance Cart
Total

No.


of Drawers

No.


of

Ht.

Wd.

Dp.

Cap.,




lbs.

Ht.

Wd.

Dp.

Cap.,




lbs.

Color
Lock
Type
Each
5
1
3
1
2 3/16"
4 1/8"
11 3/32"
10 11/16"
10 11/16"
10 11/16"
18"
18"
18"
100
100
100
43

1/8

"
15"
20"
3,600
Gray
Keyed
0000000
000000000
Stainless Steel Bench-Height Cabinets—Assembled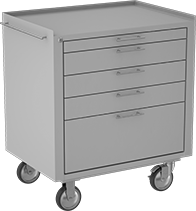 5 Drawer
Bench-Height
Cabinet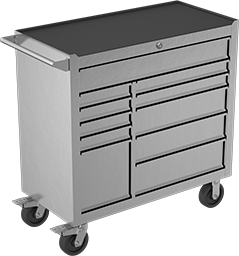 11 Drawer
Bench-Height
Cabinet
Total

No.


of Drawers

No.


of

Ht.

Wd.

Dp.

Cap.,




lbs.

Ht.

Wd.

Dp.

Cap.,




lbs.

Color
Lock
Type
Each
5
1
3
1
2"
4"
10"
24 3/4"
24 3/4"
24 3/4"
16"
16"
16"
75
75
75
35"
30

1/2

"
21

1/2

"
1,000
Gray
Keyed
0000000
000000000
11
4
2
1
2
1
1
2 3/16"
2 3/16"
4 1/16"
5 1/8"
6 5/16"
12 3/16"
11 11/16"
23 5/8"
36 11/16"
23 5/8"
23 5/8"
11 11/16"
18"
18"
18"
18"
18"
18"
100
100
200
100
100
200
42

1/2

"
41"
20"
3,600
Gray
Keyed
0000000
00000000
11
4
2
1
2
1
1
2 3/16"
2 3/16"
4 1/16"
5 1/8"
6 5/16"
12 3/16"
11 11/16"
35 5/8"
49 11/16"
35 5/8"
35 5/8"
22 11/16"
18"
18"
18"
18"
18"
18"
100
100
200
100
100
200
42

1/2

"
54"
20"
3,600
Gray
Keyed
0000000
00000000