Backing Material

Backing Material
Mounting Hardware

Mounting Hardware
Mounting Arm Length

Mounting Arm Length
RoHS (Restriction of Hazardous Substances)

RoHS

(Restriction

of
Hazardous

Substances)
DFARS (Defense Acquisition Regulations Supplement)

DFARS

(Defense

Acquisition

Regulations

Supplement)
REACH (Registration, Evaluation, Authorization and Restriction of Chemicals)

REACH

(Registration,




Evaluation,

Authorization
and Restriction of

Chemicals)
Unbreakable Convex Safety Mirrors with Fixed Arm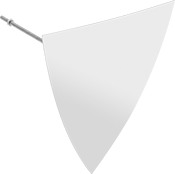 The stainless steel backing and surface withstand corrosion and will not break, shatter, or crack upon impact. Mount through a drilled hole and secure with the included fasteners.
Ht.

Wd.

Mounting
Arm

Lg.

For Use
Outdoors
Mount
Type
Each

304 Stainless Steel

w/304

Stainless Steel Backing

10"
10"
8"
Yes
Screw In
000000
000000
Safety Mirrors
These mirrors are flat and show objects to scale. They come with a threaded ball stud that allows swiveling for easy adjustment. Though mirrors are flat, they do not mount flush due to the stud and bracket. For mirrors that do mount flush, see lavatory mirrors.
Rectangle with Stainless Steel Backing—Mounting brackets are sold separately.
Rectangle with Stainless Steel Backing