Choosing a Proximity Switch
Rotatable
AC/DC

Metallic-Object

Proximity Switches
Rotate the face on these switches five different directions for easy installation and positioning—they work with both AC and DC inputs. Unlike traditional limit switches that have actuators, these noncontact switches adjust for front, top, bottom, left, or right facing objects. They have inductive sensors to detect objects even if they're covered by water, oil, dirt, or a surface finish, making them good for conveyor systems and bin filing operations in refineries, mills, and other challenging environments. Maximum sensing distance is based on the object's material; the distance listed is for mild steel.
They are UL and C-UL listed, as well as CE marked, to meet American, Canadian, and European Union safety standards. Some are also CSA certified.
Flush switches, also called embeddable and shielded switches, are more accurate than projecting switches at close range. They also won't interfere with each other's signals when installed close together. The face mounts evenly with any material, including metal.
Projecting switches, also known as non-embeddable and unshielded switches, sense objects farther away than flush switches. To work properly, the area around the face must be metal free.
All have 3-pole micro connectors to easily connect and disconnect. Switches with a plug connect to cables with a socket (sold separately). To view switch wiring diagrams, select a part number and click Product Detail.
IP-rated, they all seal out dust and debris. IP 65-rated switches protect against low-pressure washdowns, such as water from a garden hose. IP 67-rated switches can be temporarily submerged.
For technical drawings and 3-D models, click on a part number.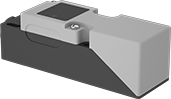 With Screw Terminals
(Front View)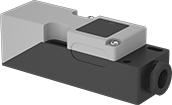 With Screw Terminals
(Back View)



Flush Mounting Style

Projecting Mounting Style

Switch
Starting
Position

Max.

Sensing


Distance,


mm

No.

of
Sensing
Positions
Signal
Output
Type
Input
Voltage
Range
Current
Output

Lg.,


mm

Wd.,


mm

Ht.,


mm
Circuit
Protection
For
Cable
OD
Features

Temp.




Range,




°F

Specifications
Met
Each

Plastic Housing with Plastic Face

(IP65-Rated)

Flush with

1/2"

Screw Terminals

1 Off (Normally Open) and 1 On (Normally Closed)
15
5
PNP, NPN
20V AC-250V AC/20V DC-250V DC
250mA
120
40
40
__
0.27"-0.51"
LED Status Indicator
-10° to 150°
UL Listed, C-UL Listed, CSA Certified, CE Marked
00000000
0000000

Projecting with

1/2"

Screw Terminals

1 Off (Normally Open) and 1 On (Normally Closed)
20
5
PNP, NPN
20V AC-250V AC/20V DC-250V DC
250mA
120
40
40
__
0.27"-0.51"
LED Status Indicator
-10° to 150°
UL Listed, C-UL Listed, CSA Certified, CE Marked
00000000
000000

Plastic Housing with Plastic Face

(IP67-Rated)

Flush with

3-Pole

Micro

1/2"-20

UNF Plug

1 Off (Normally Open)
20
5
PNP, NPN
20V AC-140V AC/10V DC-140V DC
450mA
40
40
40
Overload, Reverse Polarity, Short Circuit
__
LED Power Indicator, LED Status Indicator
-10° to 150°
UL Listed, C-UL Listed, CE Marked
00000000
000000

Projecting with

3-Pole

Micro

1/2"-20

UNF Plug

1 Off (Normally Open)
35
5
PNP, NPN
20V AC-140V AC/10V DC-140V DC
450mA
40
40
40
Overload, Reverse Polarity, Short Circuit
__
LED Power Indicator, LED Status Indicator
-10° to 150°
UL Listed, C-UL Listed, CE Marked
00000000
000000
Cables with Socket for Switches with Plug