Portable Workstations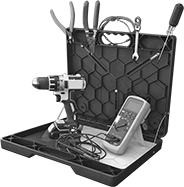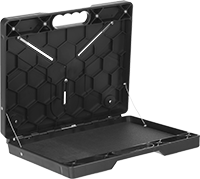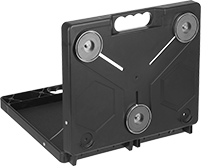 Back View with Magnets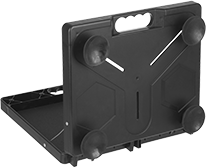 Back View with Suction Cups
Mount these workstations on a flat vertical surface to create a steady horizontal surface for writing, typing, or tinkering. They work as a case when closed, with a 2 3/4"-deep interior for carrying a laptop, small tools, and other supplies. When you need a workstation, mount them to a metal surface such as an electrical cabinet with the included magnets, or a nonmetal surface such as a wall with the included suction cups. The magnets and suction cups screw into either exterior side of workstations; leave magnets on one side and suction cups on the other to be ready for quick use. On the interior, workstations have a movable rubber work surface, magnetic strips across the top for holding tools, and wire rope cables to keep workstations open at a 90° angle.
For Minimum
Material
Thickness

Wd.

Dp.

Ht.

Wd.

Dp.

Ht.

Cap.,




lbs.

Mounting
Location
Mount
Type
Mounting
Hardware
Included
Assembled
or
Unassembled
Features
Includes
Color
Each

ABS Plastic

1/16

"
17"
2

3/4

"
14"
16

3/4

"

3/4

"
11

3/4

"
40
Bench Top, Wall
Magnet, Suction Cup
Yes
Assembled
Magnetic Strips, Wire Rope Cables
Rubber Pad
Black
0000000
0000000
Ball-Grip

Positioning Arms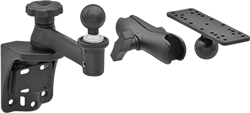 Arm Built
with Rotating Complete Arm with
Ball,
Rigid
Connector,
and Universal Mounting Plate
Ball-and-socket connections allow 360° positioning. Choose a complete arm or select a base, connectors, and a plate, grip, holder, or tray to build a complete arm.
For technical drawings and 3-D models, click on a part number.

Mount.


Location

Ht.

Ball


Dia.

Max.

Load


Capacity,

lbs.

Material
Ball
Material
Base


Dia.

Each
Bench, Wall
1

7/8

"
1

1/2

"
3
Aluminum
Rubber
3

3/8

"
00000000
000000
The head tilts, rotates, and locks in place to hold work at an angle.
Suction-mount vise attaches to smooth surfaces. Use the lever to engage and disengage the rubber suction pad.
Sign Holders with Suction Cups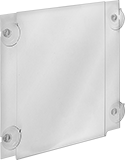 Suction cups allow you to mount these holders to glass and other smooth surfaces. Scratch- and shatter-resistant, these holders stand up to tough environments while still being optically clear. Insert a sign or document from the top and sides.