Inspection Symbol Metal Stamps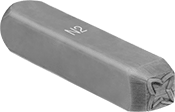 Mark surfaces with unique characters for traceability, quality control, and inspection. For use on materials with a Rockwell hardness up to C30, including leather, wood, and most metals.
Also Available: Other symbols and sizes. Please ask for 1574T999 and specify symbol and character height.
Inspection Rubber Stamps

Mark inspected items with a number or message. These pocket-size stamps make 1,000 imprints before needing more ink. Use on nonporous surfaces such as plastic, glass, and metal.