Design-Your-Own

Conductive Compartmented Tote Boxes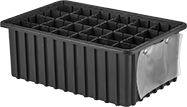 Box Shown
with Dividers and Label Holder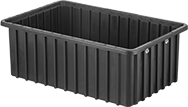 Box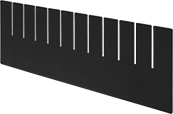 Divider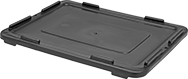 Lid
When used with a lid, these tote boxes protect contents from electrostatic discharge. Choose the box and number of dividers you need. The dividers fit into molded slots in the boxes and intersect so you can have compartments as small as 1 1/8" square.
Static-Dissipative

Storage Boxes with Removable Tote Tray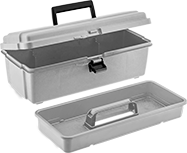 This storage box is made with an additive that protects sensitive contents from electrostatic discharge.
Wd.

Dp.

Ht.

Weight,




lbs.

Material
Color
Lock
Type
For

Max.


Shackle


Dia.

Surface


Resistivity,




ohms/sq.

Each
14

1/2

"
7

1/2

"
5"
1
Plastic
Yellow
Padlockable

3/16

"
105-1011
0000000
000000
Bulk Bags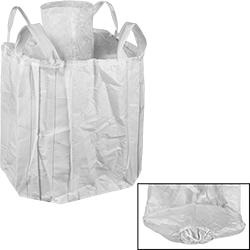 E
Also known as flexible intermediate bulk containers, these bags are an economical way to contain and ship a variety of materials. They have four corner straps for convenient forklift lifting; no special equipment or pallets required.
Closed-top with inlet bags have a tube for controlled pouring, and are otherwise closed on top. Use them with filling station equipment, such as bulk bag fillers.
Bags with a bottom outlet with drawstring closure open and close to release and hold the material stored in them.
Octagonal-base bags remain stable regardless of how much they're filled. Compared to rectangular bags, their shape is less prone to rounding out as they're filled. There's no need to transport these bags on a pallet because they hold their shape when moved.
Antistatic bags protect against static discharges and don't need a grounding tab. Use them if flammables or explosives are nearby.
Use pallets to stack bags during transit and storage. They have raised columns in the center to help bags stay upright and keep their edges from flowing over the side.
Style

Wd.

Dp.

Ht.

Cap.,




cu.

ft.

Weight


Cap.,

lbs.

Color
Strap
ID

Wd.

Dp.

Wd.

Dp.

Space Saving
Features
Features
Each

Antistatic

Octagonal-Base

Bags

Closed Top with Inlet

E
35"
35"
35"
25
2,000
Blue
7

1/2

"
15"
14"
15"
14"
Stackable
Bottom Outlet with Drawstring Closure, Top Inlet with Drawstring Closure, Corner Straps
0000000
000000