AC to

AC Phase Transformers for Light Loads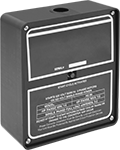 Also known as static converters, these transformers allow your motor to run at up to 70% of its normal power. Use them in drill presses, mills, and grinders. They generate three-phase output power from a single-phase input. When wired for constant voltage, transformers filter out voltage spikes and electrical noise.
Select a transformer so the power output of your largest motor falls within the output range. When using multiple motors, start the largest motor first, then start smaller motors individually.
Input
Output
Power


Output,

hp

Ht.

Wd.

Dp.

Each

Single Phase

Input/Three

Phase

Output—

Terminal Block Input and Output

220V AC
220V AC
0.25-0.5
7"
6.5"
3"
0000000
0000000
220V AC
220V AC
0.5-1
7"
6.5"
3"
0000000
000000
220V AC
220V AC
1-3
7"
6.5"
3"
0000000
000000
220V AC
220V AC
3-5
7"
6.5"
3"
0000000
000000
220V AC
220V AC
5-7.5
7"
6.5"
3"
0000000
000000
220V AC
220V AC
7.5-10
7"
6.5"
3"
0000000
000000