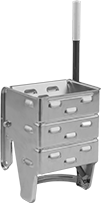 Galvanized Steel Sideward Wringer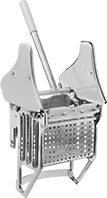 Galvanized Steel and Stainless Steel Downward Wringer
Galvanized steel wringers resist corrosion.
Sideward-style wringers have a side-mounted handle that moves an inner wringer plate forward against the wet mop. Downward-style wringers have a center-mounted handle that moves two wringer plates downward against the mop to squeeze out more water than the sideward-style wringer.
Galvanized steel buckets resist corrosion.