How to

Identify and Measure Fittings
Pipe size is an industry designation, not the actual size. View information about how to measure threaded and unthreaded pipe and pipe fittings.
Standard-Wall

Butt-Weld

Steel Unthreaded Pipe Fittings
Butt-weld fittings allow for a smooth connection that provides maximum flow. They have beveled ends that, when flush to pipe, create a trough for a strong, permanent weld. Fittings are also known as Schedule 40. They are for use in noncorrosive environments.
Stub-end straight adapters are used with flanges. Slide a flange onto the stub end and weld the stub end to pipe (not the flange). Since the flange isn't welded to the pipe, it can be disconnected easily, which creates an access point for frequent cleaning and inspecting.
For technical drawings and 3-D models, click on a part number.
Stub-End Straight Adapters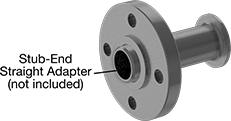 Straight Adapter with Flange

Straight Adapter
For Use

With:

Air,

Steam,

Oil,

Water,

Natural Gas
Specifications

Met:

ASTM

A234,

ASME

B16.

9
Pipe Nipples and

Pipe:

Use Schedule 40 steel

Flanges:

Use Class 150 steel
Pipe
Size

Wall


Thick.

Construction
Each
Each

1/2

0.109"
Seamless
000000000
000000
000000000
000000

3/4

0.113"
Seamless
000000000
00000
000000000
00000
1

0.133"
Seamless
000000000
00000
000000000
00000
1

1/4

0.14"
Seamless
000000000
00000
000000000
00000
1

1/2

0.145"
Seamless
000000000
00000
000000000
00000
2

0.154"
Seamless
000000000
00000
000000000
00000
2

1/2

0.203"
Seamless
000000000
00000
000000000
00000
3

0.216"
Seamless
000000000
00000
000000000
00000
4

0.237"
Seamless
000000000
000000
000000000
00000
6

0.28"
Seamless
000000000
000000
000000000
00000
8

0.322"
Seamless
000000000
000000
000000000
000000