How to

Identify and Measure Fittings
Pipe size is an industry designation, not the actual size. View information about how to measure threaded and unthreaded pipe and pipe fittings.
Thick-Wall

Galvanized Iron and Steel Threaded Pipe Nipples and Pipe
Made of galvanized iron or steel, this pipe has fair corrosion resistance. It has thick, Schedule 80 walls for good strength in medium-pressure applications.
Seamless pipe has a smooth interior for unrestricted flow and is stronger than welded pipe.
Straight reducers are also known as swage nipples.
For technical drawings and 3-D models, click on a part number.
Reducers, Threaded on Both Ends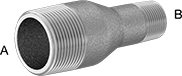 Reducer
For Use

With:

Air,

Natural

Gas,

Nitrogen

Gas,

Oil,

Steam,

Water
Specifications

Met:

MSS SP-

95,

ASTM

A234,

ASME

B1.20.

1

Fittings:

Use Class 300 iron or steel

Flanges:

Use Class 300 steel
(A)

(B)

Lg.

Thread
Type
Construction
Material
Each

1/4

1/8

2

1/4

"
NPT

Seamless
Galvanized Steel
00000000
000000

3/8

1/4

2

1/2

"
NPT

Seamless
Galvanized Steel
00000000
00000

1/2

1/8

2

3/4

"
NPT

Seamless
Galvanized Steel
00000000
00000

1/2

1/4

2

3/4

"
NPT

Seamless
Galvanized Steel
00000000
00000

1/2

3/8

2

3/4

"
NPT

Seamless
Galvanized Steel
00000000
00000

3/4

1/4

3"
NPT

Seamless
Galvanized Steel
00000000
00000

3/4

1/2

3"
NPT

Seamless
Galvanized Steel
00000000
00000
1

1/8

3

1/2

"
NPT

Seamless
Galvanized Steel
00000000
00000
1

1/4

3

1/2

"
NPT

Seamless
Galvanized Steel
00000000
00000
1

3/8

3

1/2

"
NPT

Seamless
Galvanized Steel
00000000
00000
1

1/2

3

1/2

"
NPT

Seamless
Galvanized Steel
00000000
00000
1

3/4

3

1/2

"
NPT

Seamless
Galvanized Steel
00000000
00000
1

1/4

1/2

4"
NPT

Seamless
Galvanized Steel
00000000
00000
1

1/4

3/4

4"
NPT

Seamless
Galvanized Steel
00000000
00000
1

1/4

1

4"
NPT

Seamless
Galvanized Steel
00000000
00000
1

1/2

1/2

4

1/2

"
NPT

Seamless
Galvanized Steel
00000000
00000
1

1/2

3/4

4

1/2

"
NPT

Seamless
Galvanized Steel
00000000
00000
1

1/2

1

4

1/2

"
NPT

Seamless
Galvanized Steel
00000000
00000
1

1/2

1

1/4

4

1/2

"
NPT

Seamless
Galvanized Steel
00000000
00000
2

1/2

6

1/2

"
NPT

Seamless
Galvanized Steel
00000000
000000
2

3/4

6

1/2

"
NPT

Seamless
Galvanized Steel
00000000
000000
2

1

6

1/2

"
NPT

Seamless
Galvanized Steel
00000000
00000
2

1

1/4

6

1/2

"
NPT

Seamless
Galvanized Steel
00000000
00000
2

1

1/2

6

1/2

"
NPT

Seamless
Galvanized Steel
00000000
00000