Standard Duct and Fittings

No need for clamps or connectors—duct and fittings press-fit together. Male ends are crimped or tapered, making them slightly smaller than a female end for simple assembly.
Galvanized steel has good corrosion resistance.
For technical drawings and 3-D models, click on a part number.
Sloped Roof Vent Caps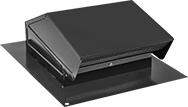 Cover external vents to reduce downdrafts and prevent obstructions from entering the vent.
Ht.

Wd.

Dia.

Ht.

Wd.

Lg.

Gauge
Features
Includes
Each

For Rectangular and Round Duct

10"
3

1/4

"
8"
6

5/8

"
14

1/4

"
18

3/4

"
24
Bird Screen
Backdraft Damper
0000000
000000
Exhaust Pipe Caps

Keep rain and debris out of vertical exhaust pipe with these caps that open with slight pressure from exhaust. They are often used on generators and other large outdoor equipment.
For Duct

Dia.

Ht.

Lg.

Gauge
Connection
Type
Color
Each
1"-1

3/16

"
3"
4

5/16

"
16
Slide On
Gray
0000000
000000
1

1/4

"-1

7/16

"
3"
4

5/8

"
16
Slide On
Gray
0000000
00000
1

1/2

"-1

11/16

"
3"
4

7/8

"
16
Slide On
Gray
0000000
00000
1

3/4

"-1

15/16

"
3

1/4

"
5

3/16

"
16
Slide On
Gray
0000000
00000
2"-2

3/16

"
3

1/4

"
6

3/8

"
16
Slide On
Gray
0000000
00000