Stencil Ink

Aerosol Can

Bottle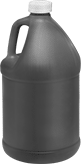 Jug
Ink in a bottle or jug can be applied with a brush or roller or used with ink pads.
Ink for porous surfaces is good for boxes, fabrics, and paper.
Ink for nonporous surfaces is good for plastics, glass, and metal.
Cardboard brown ink can be sprayed on cardboard boxes and corrugated shipping cartons to cover existing marks.
Cap.,




oz.

Container Type
Drying Time
Specifications
Met
Choose a Color
Each

Ink For Nonporous and Porous Surface Types

12
Aerosol Can
15-20 min.
MIL-A-A-208
0000000
000000
32
Bottle
2 min.
__
0000000
00000
32
Bottle
2 min.
__
Black
0000000
00000
128
Jug
2 min.
__
0000000
000000
128
Jug
2 min.
__
Black
0000000
00000

Ink For Porous Surface Types

12
Aerosol Can
15-20 min.
__
Cardboard Brown
0000000
00000
32
Bottle
Instant
__
Black
0000000
00000
128
Jug
Instant
__
Black
0000000
000000