Adjustable
Motor-Mounting

Bases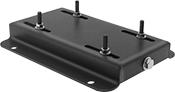 A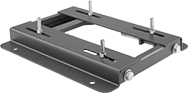 B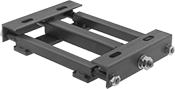 C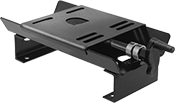 D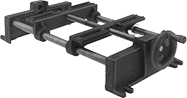 E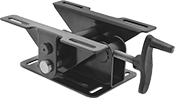 F
Increase energy efficiency in belt-driven systems while reducing wear on components—use one of these bases to adjust your motor position to get the proper belt tension.
Bases for constant-speed applications keep your motor in a fixed position while operating.
Bases for variable-speed applications allow movement while operating to compensate for vibration and varying loads. They're often used for automatic belt tensioning with spring-loaded pulleys in variable-speed drive applications.
For technical drawings and 3-D models, click on a part number.
Fits
NEMA
Frame
For

Max.


Motor
hp
Mounting
Orientation

Max.


Adjustment
Adjustment
Style

Lg.

Wd.

Ht.

Each

For Linear Adjustment in

Constant-Speed

Applications

A
56
3
Horizontal
3"
Cap Screw
10

5/8

"
6

1/2

"
1

1/8

"
00000000
000000
A
143, 143T
1

1/2

Horizontal
3"
Cap Screw
10

1/2

"
7

1/2

"
1

1/8

"
00000000
00000
A
145, 145T
3
Horizontal
3"
Cap Screw
10

1/2

"
8

1/2

"
1

1/8

"
00000000
00000
A
182, 182T
5
Horizontal
3"
Cap Screw
12

3/4

"
9

1/2

"
1

1/2

"
00000000
00000
A
184, 184T
7

1/2

Horizontal
3"
Cap Screw
12

3/4

"
10

1/2

"
1

1/2

"
00000000
00000
A
213, 213T
10
Horizontal
3

1/2

"
Cap Screw
15"
11"
1

3/4

"
00000000
00000
A
215, 215T
15
Horizontal
3

1/2

"
Cap Screw
15"
12

1/2

"
1

3/4

"
00000000
00000
B
254, 254T
20
Horizontal
4"
Cap Screw
17

3/4

"
15

1/8

"
2"
00000000
000000
B
256, 256T
25
Horizontal
4"
Cap Screw
17

3/4

"
16

7/8

"
2"
00000000
000000
B
284, 284T
30
Horizontal
4

1/2

"
Cap Screw
19

3/4

"
16

7/8

"
2"
00000000
000000
B
286, 286T
40
Horizontal
4

1/2

"
Cap Screw
19

3/4

"
18

3/8

"
2"
00000000
000000

For Linear Adjustment in

Variable-Speed

Applications

C
48, 56
3
Any Angle
2

1/8

"
Hex Nuts
9

1/2

"
5

7/8

"
1

3/8

"
00000000
000000
D
48, 56
3
Any Angle
5

7/8

"
Hand Crank
13

1/8

"
6

1/4

"
3"
0000000
000000
E
48, 56, 56H, 66, 143T, 145T, 182, 184, 203
2
Horizontal, Vertical
8"
Hand Crank
18

1/8

"
8"
3

1/4

"
0000000
000000

For Angular Adjustment in

Variable-Speed

Applications

F
48, 56
3
Any Angle
30°
Hand Crank
12

1/2

"
5

7/8

"
3

1/2

"
0000000
000000