Prevent the flow of flux and metal to unwanted areas during brazing.
Max.




Temperature,

°F

Container


Size,

oz.

Shape
Size
Color
Form
Cleanup
Method
Each
3000°
0.3
Round
0.175"
Green
Liquid
Abrasive
000000
000000
Surface-Protection

Compounds for Steel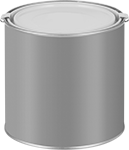 Can

Bottle
When heat treating steel to harden it, use these compounds to protect the surfaces you don't want to harden. Also known as stop-off paint, all are compatible with gas mixtures that are used in gas carburizing and carbonitriding processes. Brush or dip the compounds on your surfaces and then air dry before heat treating. After heating, any residue that's left behind can be easily washed away with hot water.
Solvent-based compounds stand up to temperature and humidity better than water-based compounds, so they dry quicker. To maintain their original consistency, use the optional xylene to thin these compounds.
Water-based compounds emit less VOCs (volatile organic compounds) than solvent-based compounds for less impact on the environment. To maintain their original consistency, simply use water to thin these compounds.
VOC regulations restrict sales to the listed jurisdictions/areas.
Surface-Protection

Compounds

Size
Type
Material
Drying


Time,




hrs.

For Maximum Surface


Temperature,




°F

For Maximum
Treatment


Temperature,

°F

Cannot
Be
Sold To
Each
Container
Size
Each

Solvent Based

1 qt.
Can
Metal
1-3
70°
1,750°
Los Angeles County, CA, Orange County, CA, Riverside County, CA, San Bernardino County, CA
0000000
000000
1 pt.
00000000
00000
1 gal.
Can
Metal
1-3
70°
1,750°
Los Angeles County, CA, Orange County, CA, Riverside County, CA, San Bernardino County, CA
0000000
000000
1 pt.
00000000
0000

Water Based

1 qt.
Bottle
Plastic
3-8
70°
1,740°
__
0000000
00000
__
000000
00