Heavy Duty Ventilated Outdoor Shelf Cabinets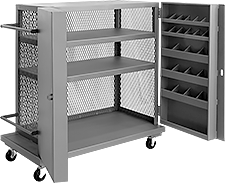 Mesh sides on this cabinet allow air circulation and visibility. Forklift access allows easy transportation to and from your job site. The doors open wide for visibility and access.
Wd.

Ht.

Dp.

Capacity,




lbs.

Type


(No. of)

Capacity
Material
Lock
Type
For

Max.


Shackle


Dia.

Features
Each

Mobile

Assembled

48"
59

1/2

"
28"
1,600
Fixed (2)
Not Rated
Steel
Padlockable

3/8

"
46 Door Compartments, External Storage Bars for Long-Handled Tools
0000000
000000000
Safety Equipment Storage Cabinets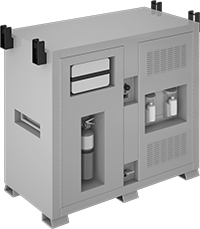 For jobsite safety, store and protect fall-arrest and personal-protection equipment (PPE) inside these cabinets while keeping a fire extinguisher, eyewash station, and first aid kit quickly accessible from the outside. Step on the foot-activated door opener and the double doors will pop open, which is especially good when hands are full. Use the interior shelves to organize safety glasses, hard hats, and gloves; use the interior hooks to hang fall-arrest harnesses and lanyards to prevent tangling. An included bracket, strap, and bolts let you attach your fire extinguisher, first aid kit, and eye wash station to the cabinets' exterior.
These cabinets are ventilated, so air circulates to dry damp and sweaty equipment. For added security, you can padlock them. Use the crane brackets or forklift skids to transport the cabinets with a crane or lift truck. Add casters (sold separately) to push them around your jobsite.
For technical drawings and 3-D models, click on a part number.
Wd.

Ht.

Dp.

Compartment
Type


(No. of)

No.


of
Shelves

No.


of
Hooks

Cap.,




lbs.

Ht.

Material
Color
For

Max.


Shackle


Dia.

For
Use
Outdoors
Each

Pkg.




Qty.

Pkg.

Assembled

60"
60"
30"
First-Aid Kit (1)

Fire Extinguisher (1)

Eye Wash Station (1)

Internal (2)

4
18
100
12"
Steel
Green

3/8

"
Yes
0000000
000000000
4
0000000
0000000
See-Through

Electronics Enclosures

These enclosures allow you to inspect your electronics without opening the cover. They are small and lightweight for use with sensors, switches, and testing devices. Use them indoors where liquids are not a concern. These enclosures are ABS plastic for impact resistance.
For technical drawings and 3-D models, click on a part number.
Ht.

Wd.

Dp.

Environment
Cover Clarity
Specifications
Met
Color
Each

With

Lift-Off

Cover and Screw Closure

2

1/8

"
1

3/8

"

9/16

"
Indoor
Semi-Clear
UL 94 HB
Green
0000000
00000
2

1/4

"
1

5/8

"

3/4

"
Indoor
Semi-Clear
UL 94 HB
Green
0000000
0000
2

3/8

"
1

7/8

"

15/16

"
Indoor
Semi-Clear
UL 94 HB
Green
0000000
0000
3

1/4

"
2

5/16

"

13/16

"
Indoor
Semi-Clear
UL 94 HB
Green
0000000
0000