Telescoping Extension Ladders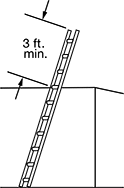 Get multiple heights in one ladder—these ladders extend and lock in 1-ft. increments to give you the exact height you need. When closed, they're small enough to fit in a job bag for easy transport and compact storage. To close, pinch tabs on the second rung to release the locking mechanism, and then slide each section down one by one.
ANSI A14.2 certifies dimensional and performance requirements for aluminum ladders. Type 1 ladders are tested to hold up to 250 lbs. Type 1A ladders are tested to hold up to 300 lbs.
Note: Check local, state, and federal codes, including OSHA, for safe operating practices. Per OSHA regulations, the ladder rails must rise at least three feet above the elevated surface being accessed.
Ceiling-Mount

Foldaway Ladders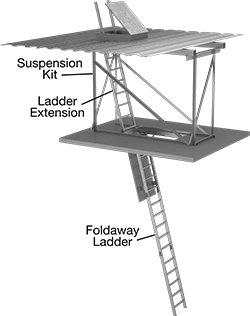 Access roofs, commercial attics, and mezzanines from inside with these ceiling-mount ladders. When not in use, they fold up for a flush fit with the ceiling surface. Gas springs make it easy to open and close the ladder. Steps are serrated for maximum slip resistance. Cut the ladder on site to the required height. For the ladder to open and close properly, allow a minimum clearance of 91".
Add suspension kits and ladder extensions when mounting the ladder to a suspended ceiling. Suspension kits connect the foldaway ladder to the roof above, providing structural support and preventing side-to-side movement. Ladder extensions connect to the top of the foldaway ladder so you can climb from the suspended ceiling to a roof hatch. They have retractable grab posts that extend up through the roof hatch for you to safely climb onto the roof.
Note: Ladders meet OSHA dimensional standards. Users are responsible for checking local, state, and federal codes, including OSHA, for safe installation and operating practices.

Foldaway Ladder
Ht.

Opening


Wd.

Opening


Lg.

Max.


Climbing


Ht.

Ladder


Wd.

No.


of
Steps
Step
Tread
Mounting
Hardware
Included
Specifications
Met
Each

Aluminum

7'-14'
31"
64"
14'
23

3/4

"
15
Serrated
No
OSHA Compliant 29 CFR 1910.23
0000000
000000000

Ladder Extension