Sewer Drain Grate Guards

Placed under a grate, these guards have filter strips to catch oil, sediment, and other pollutants.
Lg.

Wd.

Spill


Cap.,

gal.

Each

Polypropylene Plastic

44"
32"
1

3/8

0000000
000000
Curb-Style

Storm Drain Filters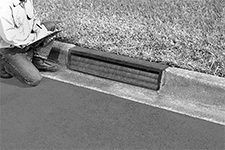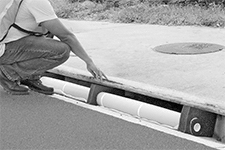 Prevent rainwater from carrying trash, debris, and sediment into sewers. These filters are often used on construction sites. They mount inside curb openings, keeping them out of the way of vehicles.
In addition to solids, 22"-35" filters remove oil and fuels from storm water. Two tension rods hold the filters in place.
Push the foam anchors on 36" and 48" filters into a curb opening to hold them securely in place, even during heavy rainstorms. Connect them side by side or cut them to length to fit any drain width.
Wd.

Dia.

For
Use
With
Oil
Removal


Cap.,

gal.

Material
Color
Installation
Type
Each
Each
22"-35"
__
Debris, Fuels, Oil, Sediment
1
Synthetic Fiber
Gray
Tension Rods
0000000
0000000
0000000
000000
36"
4"
Debris, Sediment
__
Polypropylene Fabric
Yellow
Foam Wedge Inserts
0000000
000000
000000
00
48"
4"
Debris, Sediment
__
Polypropylene Fabric
Yellow
Foam Wedge Inserts
0000000
000000
000000
00
Outdoor Sorbents
Keep oil out of soil and fuel out of drains. These sorbents cling to oil but let water pass through, so you can leave them outside for weeks to catch oil spills and leaks. More rugged than typical sorbents, these sorbents won't break down when exposed to sunlight, and gravel and debris won't pierce them.
Perforated pads absorb small spills and can be used to wipe off equipment. They are perforated up the center.
Pillows are thicker than pads, so they soak up more liquid. Use them under drips and in corners.
Rolls lay flat and can be cut to size, so you can spread them out over pavement or grass. They're also good for large spills and leaks around equipment. Perforated rolls are perforated every 8" across the width and every 12" up the center.
Socks are flexible. Wrap them around corners, equipment, or storm drains.
Booms won't burst even if you drive over them with a forklift. Weigh booms down with rebar, so they won't roll out of place.