Threaded
On/Off

Valves with

Easy-Access

Strainer
A built-in strainer traps debris and allows you to replace the screen without disconnecting your pipeline. These valves have a T-handle or lever that resists accidental movement when snagged or bumped. They are full port, so they do not restrict flow.
Nickel-plated brass valves are more corrosion resistant than plain brass valves.
For technical drawings and 3-D models, click on a part number.
Brass Body with T-Handle—Straight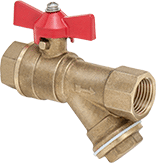 Brass
Straight,
Female ×
Female
Valve

Type:

Ball

For Use

With:

Air,

Argon,

Helium,

Krypton,

Neon,

Oil,

Steam,

Water,

Xenon
Seal

Material:

Fluoroelastomer Rubber
Pipe
Size

Max.


Pressure

Max.


Steam
Pressure
Temperature


Range,




°F

Material
Mesh
Size

End-to-End




Lg.

Each
Each

NPT Female × NPT Female

1/2

×

1/2

600 psi @ 100° F
150 psi @ 355° F
-40° to 365°
304 Stainless Steel
50 × 50

3

7/16

"
0000000
000000
0000000
00000

3/4

×

3/4

600 psi @ 100° F
150 psi @ 355° F
-40° to 365°
304 Stainless Steel
50 × 50

4"
0000000
00000
0000000
0000
Brass Body with Lever Handle—90° Elbow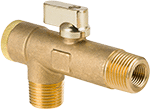 Brass
90°
Elbow,
Male ×
Male
Valve

Type:

Ball

For Use

With:

Air,

Argon,

Helium,

Krypton,

Neon,

Water,

Xenon
Seal

Material:

Buna-N Rubber
Pipe
Size

Max.


Pressure

Max.


Steam
Pressure
Temperature


Range,




°F

Ball
Material
Material
Mesh
Size

Each
Each

NPT Male × NPT Male

1/2

×

1/4

600 psi @ 100° F
Not Rated
0° to 200°
Chrome-Plated Brass
304 Stainless Steel
50 × 50

0000000
000000
0000000
00000

1/2

×

3/8

600 psi @ 100° F
Not Rated
0° to 200°
Chrome-Plated Brass
304 Stainless Steel
50 × 50

0000000
00000
0000000
000

1/2

×

1/2

600 psi @ 100° F
Not Rated
0° to 200°
Chrome-Plated Brass
304 Stainless Steel
50 × 50

0000000
00000
0000000
000
Nickel-Plated Brass Body with Lever Handle—90° Elbow

Nickel-Plated
Brass
90°
Elbow,
Male ×
Male
Valve

Type:

Ball

For Use

With:

Air,

Argon,

Helium,

Krypton,

Neon,

Water,

Xenon
Seal

Material:

Buna-N Rubber
Pipe
Size

Max.


Pressure

Max.


Steam
Pressure
Temperature


Range,




°F

Body
Material
Ball
Material
Material
Mesh
Size

Each
Each

NPT Male × NPT Male

1/2

×

1/4

600 psi @ 100° F
Not Rated
0° to 200°
Nickel-Plated Brass
Chrome-Plated Brass
304 Stainless Steel
50 × 50

000000
000000
0000000
00000

1/2

×

3/8

600 psi @ 100° F
Not Rated
0° to 200°
Nickel-Plated Brass
Chrome-Plated Brass
304 Stainless Steel
50 × 50

0000000
00000
0000000
000

1/2

×

1/2

600 psi @ 100° F
Not Rated
0° to 200°
Nickel-Plated Brass
Chrome-Plated Brass
304 Stainless Steel
50 × 50

0000000
00000
0000000
000